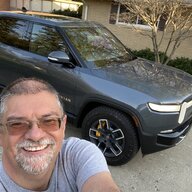 First Name

Bryan
Joined

Mar 15, 2022
Threads
Messages
Reaction score

150
Location
First Name

Bryan
Vehicles

R1T
I am not talking about physically decelerating I am talking about the brake lights being illuminated.

I have owned several EVs. My plug in Pacifica had a mode that felt like a slightly lower gear. Pulling off the accelerator never activated the brake lights but it also had a nice subtle deceleration. It was never jarring to pull off the gas.

Based on the responses here I guess maybe I'm just weird but I don't want anyone thinking I'm brake checking them or constantly pressing the brakes.
Some of this is driven by federal regulations that require the brake lights to be illuminated at certain rates of deceleration. It appears both Tesla and Rivian have these implemented…can't comment on what newer ICE cars do under significant deceleration occurring without use of a brake pedal (letting off of the accelerator while going uphill).