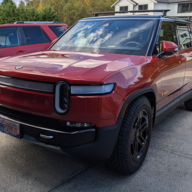 Joined

Apr 25, 2019
Messages
Reaction score

198
Location
Vehicles

2014 4Runner (R1T pre-order)
For me I am going with the R1s over the pickup for these reasons. Gear tunnel is too short to put my skis in it and the bed is too short to put the skis in the bed. If it was a little bigger in width and bed length I would have hands down chosen the pickup for practical reasons. I also have a longboard surfboard for small days and if I am going to rack up a 10 foot board I might as well do it on the SUV. Possibly I might get the 3rd row seats if I can live with the shorter range which I am still on the fence on as I think battery tech may improve and more level 2 chargers pop up . Also I love the looks of the SUV.
Do we know the exact interior dimension of the gear tunnel yet? I was hoping to fit skis in there myself. The R1T width from the website specs is 79.3 inches => 201cm, and I run 180cm long skis. Might be close when you take into account door thickness and where that vehicle width number is measured.
Regarding the bed, using specs from here (
https://www.evspecifications.com/en/model/8b4391
), the diagonal will be 196.9cm. Once again pretty close tolerances depending on exactly how you measure. I wonder if you have a couple of adult friends how that will all fit in there. Maybe actually better than a giant bed where everything shifts from side to side for each bend in the road?
Given that this is an Adventure Vehicle (TM), I'd hope that Rivian folks have considered skis within the 90th percentile lengths or something. If a test drives become a thing, I'll be bringing my tape measure still
.