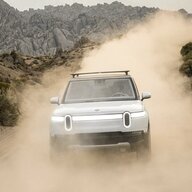 First Name

Mark
Joined

Feb 17, 2020
Messages
Reaction score

464
Location
First Name

Mark
Vehicles

1981 Volvo wagon; 2006 Tacoma SR5; 2009 Toyota Prius
Every week (everyday?), I change my mind about buying a R1S or R1T.
I built a simple model to help make the choice easier but, because how I weigh factors can change daily, outcomes may not become clearer. But the exercise may still be worth the effort, if I'm thinking more cogently about choices. At least that's the hope.
I wanted to share my model, ask for improvements, and see if we, as a forum, can create something better. I'm sure we can. Let's play.
Scoring:
0-3 pts
; split scores, 1.5 per, allowed
Decision Criteria
R1S__________________R1T​
1. carrying people & animals vs carrying stuff
2. vehicle security (fully metal enclosed vs tonneau covered bed)
3. length/maneuverability
4. utility & versatility
5. loadability (ease of loading/unloading)
6. urban vs non-urban driving
7. cost (basic vs fully loaded costs)
8. availability (R1Ts will be first off the line)
9. climate conditioned vs au naturel camping
10. looks (highly subjective but clearly important)
TOTALS
*My run
yielded 15.0 points for each vehicle
. My model didn't yield a winner, but it helped me think through the choices.
**Ideally, criteria are independent variables. I don't know how to make this happen and, maybe in real life, it's not important; how we feel about one criterion affects others. For example, loadability affects maneuverability. This could be collapsed into one variable or teased out, as I've done. In doing so, multicollinearity (when two variables affect each other) contaminates the sample. Expand or collapse criteria?
***Thoughts. A wider range of points, say 0 to 5, might allow for finer discrimination, but it also requires higher levels of discrimination than I'm able to make. Criteria may be added or subtracted and, in doing so, it may or may not become easier to make a decision.
Last edited: