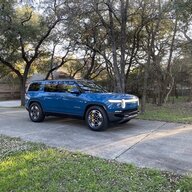 First Name

Alan
Joined

Apr 10, 2020
Messages
Reaction score

710
Location
First Name

Alan
Vehicles

Lexus LX470
Occupation

IT
I am going to try to put into words my thoughts on seeing the Rivian in the Metal for the first time. While it was very exciting for me it was also very tough because while I wanted to ask many questions and quiet frankly some difficult questions I believe this event was not meant for pre-order holders. This was really an event for lawmakers. There were two Rivian employees at the event but there were at least 5-6 Rivian hired lobbyists trying to talk to lawmakers. The two Rivian employees were an engineer and marketing director. Both seemed very busy with conference calls while the lobbyists did the schmoozing with the lawmakers. I was clearly a third wheel but when they had time they answered my basic questions.

On that note I didn't ask many of the questions I would have if it had been a more customer focused event. Yes - I noticed the crooked charging door but I didn't bring it up... not the right time... I also noticed the horribly saggy door mesh pockets (no pictures) because no interior pictures allowed. Those door pockets do not belong in an $80k car.... I don't think they belong in a 40k car.

Things I "think" I learned....

The door handles are always presented when the doors are unlocked....
unlocked = presented
locked = sucked in
It's that simple. What I didn't get answered... when do the doors automatically lock and is that programmable? My guess is probably. some systems lock when you put the car in drive and others once you hit a certain speed. I didn't ask this question today. However, I know we have all seen video of the R1T on highway at "speed" with the handles out... this leads me to believe it is completely programmable...

Where exactly are the 10 camera's - (my thoughts in Parens)
Front Lower Grill
Front Top Windshield
Sides - Rear Facing behind both Front Tires
Sides - 2 in each mirror - Forward and side facing
Back - in the middle of the 3rd brake light rail (bed security)
Back - above the license plate. (hitch camera/backup camera)

Do the camera's work when off road to show you terrain around the vehicle. I was told yes this is still a feature. Aside from some early video that showed this in a simulator they haven't publicized this as a feature as far as I know... It was one my burning questions.

The size of the R1T is really exactly what I imagined but the bed seems quite a bit longer when opened and shorter when closed. That hinge system creates several extra inches more than what you'd expect an open tailgate to provide.

Interior - It's still a freaking state secret.... They just don't have it locked down enough to trust pictures in the wild... and I know that drives everyone crazy. While I was invited to look I was not allowed to sit in the car nor touch anything in the interior. I did not take a hard look at the interior for this reason... it just felt awkward... (see my first paragraph about the reason for this event)

This particular R1T has the Max Pack in it and is headed to Big Bend for a photo shoot and then back to LA over the next several days. I confirmed it was built on the regular assembly line in Normal although they couldn't (or wouldn't) tell me when. So not sure if it was early build or later... my personal guess is early... also no state sticker on the window but that could be to prevent lawmakers from making remarks about why this state and not Texas... who knows I guess.

I found it interesting that they chose to drive a Max Pack across the country.... Read into that what you will... but Texas is a very big state.

They stated as a matter of fact that there is indeed a regular 12 volt battery under a panel in the frunk area and it can be reached without tools.

Speaking of frunk... They had a false floor in the frunk to make it more shallow for ease of loading and unloading stuff..... Of course you give up space for this but the false floor can be removed for more space when needed. Didn't think to ask if this is going to a standard feature or optional add on. It would be nice to store less frequently needed items under that false floor.

I took another look at the 12 volt plug in the frunk and I'm a little concerned about hood clearance when using it with long or odd shaped plugs. They did say no pictures because it was a candidate for a change.

Overall fit an finish - I just don't think I spent enough time with it to give a complete assessment. yes the charging port door was bad... I couldn't help thinking what a few alignment pins would do for making that thing look straight. My short answer to this question for now.... It's not a Lexus. But then again I have never seen a pre-production Lexus.

Finally I asked about rock rails and winch options. I got the standard things are in development answer but that the truck would come winch ready.

I know a question came up about insulated glass but I had already left and did not ask that question. I think that's a question best confirmed with a test drive anyway.

I think that's it for now... let me know if something needs clarification.