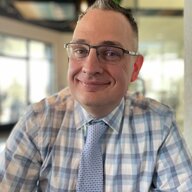 First Name

Tony
Joined

Mar 24, 2021
Messages
Reaction score

733
Location
First Name

Tony
Vehicles

R1S (Launch Edition Preorder)
Occupation

Embedded Systems Engineer
I went by the location in Venice today shortly after the opened at 9am. I had a list of questions (below) and both Olivia and Mark indulged just about everything I had a question for. Some of the answers were a little disappointing but others were good.

Before I get to the questions, I want to give a special shout-out to both Olivia and Mark. Olivia heard that I traveled from Denver for the event and gave me a complimentary Rivian-logo tumbler. Thanks!! Olivia said that she is on the customer engagement team (based in Normal but here in Venice for this opening). Mark said he is local (from Orange County).

I talked to her about how "left out" many of the long-time preorder holders are feeling and Olivia said "that's not right. we need to do more there" and promised to take it back to their team in Normal.

She said that right now they are sprinting and _every_ vehicle being produced is for a Launch Edition pre-order holder whether internal (some current employees had pre-orders before they joined Rivian) or external. She said _no one_ should be getting contacted by a Guide who is not a Launch Edition pre-order holder. She also said that all deliveries seen in media/social media so far are Launch Edition pre-order holders. I mentioned that it appeared that this may not be true given what I had seen on forums. She said she would look into it because it _should not_ be the case. Both Mark and Olivia independently confirmed that all Launch Editions (including R1S) are still being sprinted to be delivered by end of CY2021. I pointed out the math this it's roughly 10 weeks away and they re-confirmed that this is what they are trying to accomplish.

I asked if the lack of a service center in my area would delay my delivery. Mark and Olivia unequivocally said "No. They only thing we need in the area is a service van and the needed spare parts" To that end, Mark further added that the Amazon Delivery Vans are being repurposed as the service vans. This had previously been theorized but he confirmed it.

Now, here's the rest of my questions I had thought of ahead of time (for these, Colby answered most of the questions. He was in the Forest Green R1T in the back of the venue):

Q1: Can USB be used for audio music (eg, MP3, etc)
A1: Not currently, maybe in the future. Spotify is via vehicle LTE (AT&T). Of note while I was in the vehicle, the Bluetooth pairing was a bit flakey. It kept disconnecting randomly from Colby's phone. this is another reason why I'd prefer a local USB playback option.

Q2: Is there a hibernate mode for saving power (like when camping and there is no cellular service) long-term?
A2: They didn't know. Olivia took my email and said she would get back to me

Q3: Is there a valet mode?
A3: Yes, via the main panel that you enable prior to handing the vehicle over to the valet. Geo-fenced and speed limited.

Q4: Can more than one account be associate with the vehicle (for spouse)?
A4: Each spouse has an account and the app. Or, you can hand off the FOB/card/bracelet

Q5: Can presets (vehicle height, seat height, etc) be managed in the app? If yes, how many?
A5: Yes for each user with an app. Vehicle detects who is approaching and adjusts during ingress.

Q6: Can night mode of the screens be turned on permanently?
A6: Yes. toggleable to day mode permanent, night mode permanent, auto adjust

Q7: Can the vehicle LTE be used with a different carrier than AT&T?
A7: No

Q8: Does R1S include the under-seat storage in the 2nd row like the R1T?
A8: Yes

Q9: Can the AC controls for the 2nd row be locked out by the front row (child issue)?
A9: Yes

Q10: Can the window operation be locked out by the front row? (child issue)
A10: Not right now, maybe future update

Q11: Can the music control GUI be moved from the right side of the display to the left for easier interaction?
A11: No, it is locked in place. They encourage the driver to just use the controls on the stalks.

Final thoughts. The interior felt really spacious without feeling cavernous. It's about as "big" on the inside as my former Nissan Xterra Off Road. The R1T I spent the most time in was Forest Green with Forest Edge interior. I am currently configured for Black Mountain interior and I'm _seriously_ considering switching to the Forest Edge with my Launch Green exterior. It's _that good_. The map interface scrolled and pinched to zoomed without issue/lag _once it was loaded_ but was kind of janky while it was still loading (for example, going from the ride height adjustment screen back to the map). I did a navigation from where we were in Venice to my house in Colorado and this route calculation took over a minute. Colby told me it does all of the calculations in the cloud so since our data was spotty (lots of people congregated at the hub congesting the cellular service) it took longer.

edit: clarified that the current sprint is for LE pre-orders

edit2: just found one other detail in my notes. Mark said that they are batch building the vehicles on a per-week basis. So, essentially, everything you see in one week should be relatively the same (minus small add-ons like the first-aid kit and color). He strongly indicated that larger add-ons like the camp kitchen and tent kit are likely to affect delivery timing if they are not building a batch with those options in the given week. The rationale is that they are doing just-in-time delivery of the larger add-ons during the week-long batches.

edit3: Mark also said that Qmerit is reaching out for charger installs approximately two weeks before final delivery of the vehicle.
Last edited: