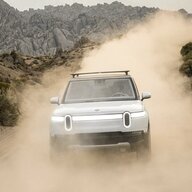 First Name

Mark
Joined

Feb 17, 2020
Messages
Reaction score

466
Location
First Name

Mark
Vehicles

1981 Volvo wagon; 2006 Tacoma SR5; 2009 Toyota Prius
How big does Rivian want to be? The median price for a new car today is almost 38 grand, but that's for mass market models, like Toyotas, F-150s and Rams. That's not the market Rivian wants to target and compete in.

Think Mercedes, BMW, Audi, Lexus instead. I haven't found average price figures for luxury vehicles but at a minimum, it will be $10K more. More likely $15K. So, let's say $38K + $15K = $63K.

Downsizing the R1S & R1T saves $3-5K on materials, labor; less upscale interior, tires, wheels, audio, etc. and another $2-3K saved; and, the big one - batteries. Either a smaller battery pack or less expensive batteries, the illusive but bound-to-be $100/kWh battery, and either way, you save $5K or more.

In short, take out $10-13K in costs plus an unknown amount for economies of scale, and you're right in the mid-$60K, average, ball park pricing for a luxury vehicle. Mercedes Benz and BMW sell 2 million vehicles a year, so Rivian could easily have years and years of production expansion available and not be demand constrained. However, the big unknown is Chinese vehicle production costs, consumer demand and vehicle mix.

And that's where Rivian overseas expansion plans are pivotal and likely why Rivian is about to raise billions more in capital. Rivian needs to expand beyond N. America while retaining a high end cache - a better performing (4 motors, 4WD, air suspension), better for the environment, more accommodating customer experience, fairly priced and delivered.

This won't be easy to pull off. Tesla is already there, MB, BMW, Audi and Lucid are coming, higher end Chinese models will come, if Toyota (& Lexus) can mass produce solid state batteries, it will be a player. There's a lot of uncertainty ahead, but Rivian appears to be positioning itself to be one of the last luxury BEV players standing.