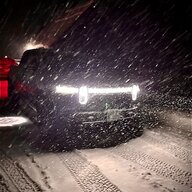 First Name

Alex
Joined

Jan 26, 2022
Threads
Messages
Reaction score

1
Location
Vehicles

R1T
Hope everyone is doing well!! I have been hearing this very high pitched ringing that seems to get worse the closer I get to 70mph and is pretty bad in the 70-80mph range. It sounds like it is coming from the right side. It weirdly appears to be louder to me when I commute to work in the morning, but when I was on a road trip down to NY from NH, the truck was perfectly silent.

I have noticed that the ringing is only when on the accelerator to speed up, when I let off or am regening to slowdown, the noise goes away.

It was weird that I did not notice it on the road trip and will be submitting a ticket but wanted to post here to see if anyone else is experiencing this / if I am going crazy haha.

Thank you for any help!