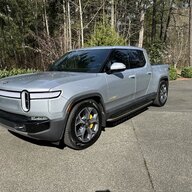 First Name

John
Joined

Oct 5, 2022
Threads
Messages
Reaction score

736
Location
Vehicles

2021+ Tesla MS Plaid, R1T Adventure
Occupation

Retired
I'm unsure which usage of "should" you're intending here, so let me respond to both.

If by 'should' you mean 'ought to be', I agree that ideally it would be the other way around. Ideally regenerative braking would absorb the energy, converting the vehicle's kinetic and potential energy into stored battery charge, saving wear upon and heat buildup within the brakes. Like downshifting in an ICE vehicle, ideally the regenerative braking would help prevent brake overheating.

However, if by 'should' you mean 'likely will', I disagree. Given that the Rivian battery seemingly cannot consume charge fast enough when descending roads beyond a certain steepness, and assuming (I've never been) that the road to Pike's peak is similarly 'too steep' like my mountain road, I believe that a Rivian owner descending Pike's peak will have to rely heavily on the brake pads to slow their roll.
Unlike a Tesla, that would regen (to some degree) most if the way down. Why the difference?