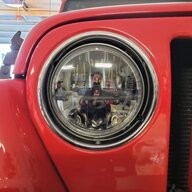 First Name

Rob
Joined

Nov 13, 2020
Threads
Messages
Reaction score

1,673
Location
First Name

Rob
Vehicles

Jeep TJ. Model S.
Like many people who have been receiving Rivians, I've been looking for a space to store a set sunglasses that I generally keep in the car. It's was quickly apparent that there wasn't a good place and that I was going to have to be creative. I started with experimenting with 'off the shelf' commercial solutions and eventually ended up resigning myself to 3D printing something. None of the publicly available options worked well, so I designed my own, and I want to share it with you all.
I used
this
design from 2018 as inspiration - I printed it in my Model S (both of them) and it worked quite well. I initially thought I was going to just remix it, but that turned out to not really be feasible as they were just too different. I ended up creating a brand new design that retains some of the geometry and strain relief of the original. It looks like this:
It's designed to slip between the headliner and overhead button / IT camera housing module. It wraps around the end of the headliner for structural soundness and uses the retaining clips keeping the overhead module in place to stay in place. Its just wide enough to fit into the gap between the clips left and right to stay put from that direction as well. It's just thick enough to be very structurally sound while being thin enough to be pliable so you can insert your glasses and not deflect the overhead module plastic.
Here is what it looks like installed:
From my limited testing, it works beautifully. Installation is super easy as well - there are four clips that hold the module in place, toward the corners. Just pry the rear two most clips open and insert the sunglasses holder, remembering to wrap it around the headliner. Clip the module back in and your done in less than 60 seconds.
From a printing perspective, it's designed to be made in something like PETG or ABS as PLA will become too soft in the heat. (I've used PETG in the past with acceptable results) It can also be printed on it's side with a brim or raft to ensure adhesion.
Ideally, I'd like more people to download, print it, and provide feedback. If a bunch of people are interested in it, I may be willing to look into a limited production run from a 3D printing service or similar.
It's available now on Thingiverse -
https://www.thingiverse.com/thing:5394594