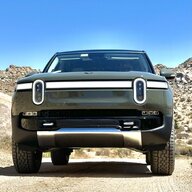 First Name

Rob
Joined

Apr 19, 2021
Messages
Reaction score

276
Location
First Name

Rob
Vehicles

Ford Fusion Energi, Kia Soul, Land Rover LR3
Occupation

Information Technology
I think this is the right place for this, but I'm hoping the site administrator will move to a different area if not.

There seem to be some posters here who truly believe in the superiority of Tesla over Rivian and they seem intent on… something. I just don't understand what their desire is. Do they merely want to troll us? Do they want to drive people away from the forum so the loss of revenue causes the forum to shut down? Do they think they are helping us see the "error" of our Rivian ways?

From my perspective, Tesla seems to bring about cult-like devotion in some people to the personality (Elon), philosophy (the Tesla way is the only TRUE way), and/or product (Teslas are all PERFECT even when they're not) which is a major turn-off to me. I think whenever you're a fanatic about something which is subjective, the likelihood of you converting everyone else to your fanaticism by constantly touting the superiority of your choice over theirs is zero. It doesn't really matter what the topic is either: favorite EV maker, favorite color, favorite team, favorite diet, favorite way to place a roll of TP on the holder, etc.

I'm happy for people who own Teslas and love them... as long as they aren't trying to convert me. I have three friends with Teslas: two are owners and one is what I'd call a member of the Tesla faithful. I think the Tesla faithful (beyond regular Tesla owners) don't understand that others may not share their faith, for whatever reason. Some seem incapable of seeing anyone else's perspective regarding the company and products they adore.

My Tesla faithful friend cannot fathom why we want a Rivian instead of a Model X. We dislike the falcon wing doors because of the needless complexity (his passenger side door has never worked properly despite multiple repair attempts by Tesla over the past 17 months). We want a vehicle which is capable of the type of off-roading we do which is clearly not the mission of the Model X. We see value in a rectangular profile SUV for fitting bulky items in the cargo area.

I just don't understand the people here who seem to enjoy dispiriting others who are as excited about Rivian EVs as they are about Tesla EVs. I think that there is just something off about people who take joy in the unhappiness in others, and worse, actively try to cause the unhappiness.