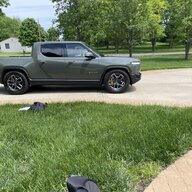 Joined

Apr 1, 2020
Messages
Reaction score

73
Location
Vehicles

2018 Honda Accord, 2017 Honda CR-V
Amazon Press Release:
Amazon Announces First Recipients of Investments from $2 Billion Climate Pledge Fund
September 17, 2020 at 8:18 AM EDT
CarbonCure Technologies, Pachama, Redwood Materials, Rivian, and Turntide Technologies receive investments to develop decarbonizing technologies and services that support Amazon's commitment to meeting

The Climate Pledge

The Climate Pledge is a commitment co-founded by Amazon and Global Optimism to meet the goals of the Paris Agreement 10 years early and achieve net-zero carbon by 2040
SEATTLE--(BUSINESS WIRE)--Sep. 17, 2020-- Amazon (NASDAQ:AMZN) today announced the first recipients of investments from
The Climate Pledge Fund
: CarbonCure Technologies, Pachama, Redwood Materials, Rivian, and Turntide Technologies. The Climate Pledge Fund is a dedicated $2 billion venture investment program backing sustainable technologies and services that will help Amazon and other companies to meet The Climate Pledge—a commitment to be net-zero carbon by 2040.
"The Climate Pledge Fund invests in visionary companies whose products and services can empower a low carbon economy," said Jeff Bezos, Amazon founder and CEO. "Today, I am excited to announce that we are investing in a group of companies that are channeling their entrepreneurial energy into helping Amazon and other companies reach net zero by 2040 and keep the planet safer for future generations."
The Climate Pledge Fund is investing in companies in multiple industries, including transportation and logistics, energy generation, storage and utilization, manufacturing and materials, circular economy, and food and agriculture. Over time, Amazon will also look for opportunities to involve other Climate Pledge signatories in this venture investment program and help them find solutions to help them reach net zero carbon by 2040.
"The Climate Pledge Fund is another important example of how the collaborative effort of The Climate Pledge can accelerate the transition to a net zero world. These investments will scale new technologies, helping these organizations speed up the pace at which operational emissions can be reduced," said Christiana Figueres, the UN's former climate change chief and founding partner of Global Optimism. "This is how a whole-economy approach to tackling the climate crisis looks. Together these companies demonstrate that there are endless possibilities in the clean, healthy recovery we must create together."
The first five companies that the Climate Pledge Fund is investing in are:
"This investment is a great endorsement of CarbonCure as the go-to Carbon Dioxide Removal (CDR) solution for the growing tech construction space and the overall shift towards low embodied carbon construction materials," said Robert Niven, CarbonCure Technologies founder and CEO. "This investment in CDR signals a broader change for public and private infrastructure projects as industries and governments turn their focus toward the reduction of embodied carbon."
"We are incredibly excited to be one of the first recipients of The Climate Pledge Fund as we join forces to protect and restore Planet Earth and achieve a net zero carbon economy," said Diego Saez-Gil, Pachama founder and CEO. "We started this company two years ago with the mission of unlocking the full potential that forests and natural ecosystems have to remove carbon dioxide from the atmosphere, a key activity to solve climate change. As the climate crisis becomes a more urgent reality every day, we are thrilled to be able to accelerate our work with the support of Amazon's Climate Pledge Fund."
"To fight climate change, we need to solve the impact products have on the environment. We're honored to be part of the Amazon's Climate Pledge Fund and to build the closed-loop supply chain that will recycle batteries, electronics and other end of life products for Amazon," said JB Straubel, Redwood Materials Co-founder and CEO.
"Amazon's commitment to addressing climate change is perfectly aligned with Rivian's mission. We are proud to be part of The Climate Pledge Fund," said RJ Scaringe, Rivian founder and CEO.
"Electric motors consume half the world's electricity, making them one of the largest contributors to climate change," said Ryan Morris, Turntide Technologies Chairman and CEO. "Today, 98% of motors are based on an 1888 design by Nikola Tesla but have been difficult to improve without resorting to expensive materials, including rare earth minerals. Turntide's mission is to replace the world's electric motors with optimal efficiency motor systems, an essential step to help companies decrease their carbon footprint and reach their goal of net zero carbon. We share Amazon's information technology DNA and are excited to have them as partners in tackling climate change."
To learn more about the Climate Pledge Fund, please visit:
https://sustainability.aboutamazon.com/about/climate-pledge-fund
.
Reuters Article
(Reuters) - EV startup Rivian and Tesla co-founder J.B. Straubel-led Redwood Materials have been named among the first recipients of investments from Amazon.com Inc's
AMZN.O
$2 billion Climate Pledge Fund, the e-commerce giant said on Thursday.
Amazon, which delivers about 10 billion items a year and has a massive transportation and data center footprint, has faced protests from environmental activists and pressure from its employees to take action on climate change.
The company in June announced the launch of the venture capital fund that will focus on technology investments to reduce the impact of climate change and support sustainable development.
CarbonCure Technologies, Pachama, and Turntide Technologies, which offer technologies that minimize carbon emission in sectors ranging from construction to energy, were other recipients of the fund, Amazon said on Thursday.
The e-commerce giant has vowed to be net carbon neutral by 2040.
CNBC Article
https://www.cnbc.com/2020/09/17/ama...g-firm-started-by-former-tesla-executive.html
"
Amazon
, one of the largest consumers of batteries in the world, is investing in battery recycling start-up Redwood Materials, a company started by former Tesla executive JB Straubel.
The investment, which wasn't disclosed, is part of $2 billion Amazon's Climate Pledge Fund is committing to Redwood Material and three other companies.
"Amazon's investment is significant because of its size and its commitment to have a more sustainable footprint," Straubel told CNBC. "The company has batteries in so many places within the company, from Amazon Web Services to consumer electronics to its growing electric logistics fleet."
Redwood Materials will be working with Amazon to recycle electric vehicle batteries, other lithium-ion batteries and e-waste from various operations within Amazon.
Straubel's interest in battery recycling comes after spending more than a decade helping
Elon Musk
build
Tesla
. As Tesla's chief technical officer, he helped design the automaker's lithium-ion battery powertrain. While Tesla grew with Straubel as CTO, so did the automaker's battery manufacturing Gigafactory outside of Reno, Nevada. Redwood Materials now has a recycling center in Carson City, Nevada, not far from Tesla's Gigafactory.
"When you look at the future of transportation and electrification of vehicles, the number of batteries that will be needed is staggering," said Straubel. "We're already recovering most of the metal, lithium, nickel, cobalt from batteries we are recycling. Now we need to do it more efficiently and at a vastly larger scale."
This is not the first investment in Redwood Materials by a fund tied to Amazon founder
Jeff Bezos
. Earlier this year the company received approximately $40 million from investors lead by Capricorn Investment Group and Breakthrough Energy Ventures, which includes Bezos and Microsoft co-founder Bill Gates."
Last edited by a moderator: