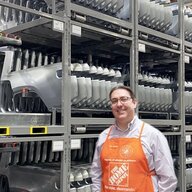 Joined

Nov 26, 2018
Messages
Reaction score

126
Location
Vehicles

Rivian
Rivian Is More Important To The Car Industry Than Tesla
https://carbuzz.com/news/rivian-is-more-important-to-the-car-industry-than-tesla
While Tesla steals headlines, Rivian is playing the long game.

September 30, 2019
Tesla's bombastic CEO, Elon Musk, has done a fine job keeping Tesla consistently in the news cycle. Much like America's Commander In Tweet, he's very good at keeping his rabid base on the hook but outside of that, his uneven temperament and desire to be the center of attention is cooling the masses. On top of that, Tesla has shown a habit of overpromising and underdelivering that has tempered the automotive world's excitement of having a new brash player showing up to shake things up.
On the flip side, Rivian is now in its tenth year of existence and the company's founder and CEO, R.J. Scaringe, has kept a much lower profile while building a company that is now starting to pay off in a big way.
While Musk has a Bachelor's degree in economics and dropped out of getting a degree in physics to become an entrepreneur, R.J. Scaringe is the real deal when it comes to automotive know-how. He got his doctorate in mechanical engineering from MIT's prestigious Sloan Automotive Lab.
It's also worth remembering Musk wasn't allowed to become CEO of his first company and, when his second was merged to become Paypal, he was ousted as CEO and made his $165 million when it was sold to eBay. Conversely, R.J. Scaringe has built Rivian from the ground up while collecting a veritable dream team of engineers and designers that truly believe in the mission. Scaringe has been laser-focused on his automotive company from the start, whereas Musk is being pulled in all directions by Tesla, SolarCity, Hyperloop, The Boring Company, SpaceX, and whatever else he has going on right now.
The first big dividends for Rivian have now started to come in as a result of Scaringe patiently playing the long game. Amazon, Ford, and Cox Automotive have invested hundreds of millions into the company. On top of that, Tesla has been talking about trucks and vans for ages but, while Tesla was messing around with its Model S at the Nurburgring, we found out Amazon has ordered 100,000 electric delivery vans from Rivian. And it won't need to erect tents to cope with production. It has a 2.6-million-square-foot factory in Normal, Illinois, that used to be owned by Mitsubishi as well as centers across the country that have been focusing on its engineering including battery design, electrical hardware, vehicle control software, and manufacturing battery packs.
Amazingly, we've got all this way into talking about Rivian without even mentioning the R1T truck and R1S SUV that will hit the market in 2020. If you thought Musk had a bit of an unnecessary reaction to the Porsche Taycan when Rivian's consumer trucks drop he's probably going to have a meltdown. After all, we still haven't actually seen Tesla's consumer truck that's being promised.
And that's what it boils down to. While Musk has been putting on reactionary sideshow after sideshow while struggling to produce enough cars for customers and getting new products to market, Scaringe has been lining his ducks up in a row, taking large orders and winning a $500 million investment from Ford. At this point, we believe the smart money is on Rivian for the long term.