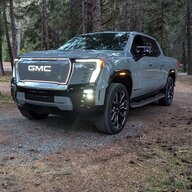 First Name

Sean
Joined

Jan 2, 2023
Threads
Messages
Reaction score

184
Location
Vehicles

Tesla Y, Cadillac ELR, Rivian R1T, Chevy Spark EV
Occupation

Electrical Engineer
This experience will be a moving target, as both companies and their vehicles evolve, but this is how the vehicles compare today. I am going to try to avoid nit-picking, because frankly, that would be unfair to the Rivian, as the newer, less "mature" vehicle.
-Driving experience:
I am a truck guy. I love my trucks and Jeeps and "guy" vehicles. I have driven them less and less, however, as getting hooked on the EV experience has soured my taste for pumping gas. I am THRILLED to again be driving a truck. It is having my cake and eating it too. I want to pick the "truck driving experience" every time.
That said, I actually don't. The Rivian uses more than double the number of electrons in a given trip than one of the other EVs. That in mind, I will take one of the more efficient cars (often the Spark EV) to town if all I am doing is making a beer run.
In addition to having all the good things about driving like a truck, the Rivian has another great thing about it's experience; It drives a lot like a _Tesla_ truck. Happily, Rivian did not try to re-invent the wheel with the experience the way some other companies have. If you are coming from a Tesla, it all feels very familiar. PAAK senses you approaching and can unlock the vehicle (glitchy still, but I am sure it will get better). There is no "ON/OFF" button, it "starts" the same way we are used to. I often accidently leave my other EVs "on", because I forget that dumb "off" button. The Rivian's shifter is in the same place, and it works the same way. The UI looks like copy-and-paste on many of the screens, and is all very familiar. This is extremely nice, having both brands in the stable.
-Interior:
The interior of the R1T is gorgeous. I travel on a lot of unpaved roads (Mexico), so my personal preference is biased toward the simple, easy-to-clean surfaces that Tesla is known for. That said, the Rivian is so beautifully appointed that I don't mind so much cleaning all those crevices.
-Suspension:
The Rivian's air-ride is impeccable. This is subjective, and I will resort to just putting out a preference here. I prefer Rivian's "Soft" mode over the Tesla's more sport-tuned suspension. Chalk it up to being an old, disabled VET that really feels the bumps these days.
Even those that prefer a sportier ride are not left out with the Rivian, however, as you can adjust that. To be fair, I am comparing the Rivian to a Model Y, not one of Tesla's air-ride models.
-Power:
The Rivian puts more power to the ground, and you can sure feel it. Again, preference, I wish it didn't. Going back & forth between the vehicles, power delivery in the Rivian can feel jerky; especially in reverse in tight spaces. I think this will get refined, but at the end of the day I really have no need for that much power. That, combined with the quad-motor's struggles on slippery surfaces, has me looking forward to trading this truck in for a dual motor variant once they become available.
-Charging:
This is the elephant in the room. Nobody with an IQ of shoe-size or above would argue that Tesla still has a lock on this technology. I know this, I have a couple of GM EVs in the garage that are also the CCS1 standard. Still, with the Rivian it seems worse. I _expect_ the Spark to be tied to a welfare charging standard, it just feels wrong in the Rivian. This achilles heel quickly soured my wife on the truck.
Initially, I was left with her Y any time she went someplace; she loved the driving experience of the R1T. On her first forrey out of town in it I went to lengths to explain the differences from what she was used to; Tesla holding her hand & doing all the work for her. She was equipped with Plugshare, ABRP and all the apps, and I made sure she knew how to use them. The trip still ended up in a $500 tow bill when the nav routed her to an EA station where they had just pulled out all of the chargers to replace them with new ones. She was incensed. "why wouldn't the vehicle tell her this the way her car does?" She will no longer drive the Rivian; win for me.
It is ironic to me that Tesla holds the key to unlock Rivian's biggest handicap: Opening up the Supercharger Network.
-Driver Assist:
Yeah, not really going to delve into this one too deep. Tesla is stumbling on some stuff for sure, but Rivian is still in diapers here.
-Software:
This is another area I am not going to really dive in to deep, except to say that if you are coming from a Tesla, give Rivian a break & some time to catch up. The NAV is a disaster, it will not do any of the things you are used to. Once you do get a route in it will not accept the updates and mods you are used to, and you cannot trust it (keep your AAA tow card handy if you do). I expect it to improve over time, much the way we saw Tesla's improve. For those of us that are self-sufficient and have no problem out-thinking its shortcomings with apps and math, this is not a problem. It does mean that I would never send my mother-in-law on a trip in the truck the way I would in the Tesla. The Tesla will take care of her, even knowing nothing about EVs. The Rivian just won't. Yet.
-Conclusion:
I love this thing. I am a fan of Rivian and what they are doing, and I am rooting for them to fly smoothly through the challenges of 2023 and bring us new, and exciting products.
One last note, is to the posts that float around the forums stating things like "I am buying a Rivian because it is better quality/better tech/better vehicle" etc. Rivian is an infant, it is _just_ getting off the ground, and cannot really be considered a mas-produced vehicle yet. I could have filled pages with niggles, and there are growing pains ahead. Those statements are not an accurate depiction when comparing an established, mass produced vehicle to one such as the early edition models Rivian is currently making. Such expectations are unfortunate because it often results in a disappointing experience, and bad-mouthing of the company because of it; much the way many of them currently bad-mouth Tesla.
Here is hoping all of you still waiting get yours s00n.