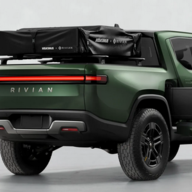 First Name

Tom
Joined

Jun 3, 2021
Messages
Reaction score

397
Location
First Name

Tom
Vehicles

Tesla Model X, VW ID.4 Pro S RWD
Occupation

IT Nerd
I'd continue to do without a truck. I learned to drive on a '71 Chevy SIlverado that took regular gas. The car was as old as I was and covered in rust in high school but had a 396.

drank gas, but it was $0.85 a gallon back then.

As gas became more expensive in the 90s, i switched to higher (30 mpg) cars and gave up on owning trucks as using a truck to get around with maybe 15 MPG isn't economical as a daily driver. I've missed trucks every day since. We've not gone camping or stuff as my kids have grown because I need a car 95% of the time for a 60 mile commute and I refuse to do it in a truck that can tow 11,000 pounds as a daily driver and dont have space to sit one in the driveway only for excursions

Rivian gives me the opportunity to do that, commute in it, and not waste gas/fill the air with carbon.