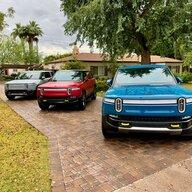 Joined

Feb 16, 2021
Threads
Messages
Reaction score

599
Location
Vehicles

2022 R1T; 2020 Model 3; 2014 Jeep Cherokee
I've been out of town for the past week. My R1T has been sitting at home in my carport plugged in.
- 70% Limit
- 240 V @ 48 amps
- Charge schedule from 12am to 12pm daily
- the info below covers the period from 1/7/2023 to 1/14/2023. The car was charged to 70% after midnight on 1/7. My mobile car detailer washed the car later that morning and then plugged it back in. The car has been sitting there ever since.
- Gear Guard is off at home
- Car is connected to WiFi
- I didn't pay attention but I'm guessing the weather in Phoenix, AZ during this period ranged from daytime highs in the upper 60's and overnight lows in the low to mid 40's.
According to info in the Rivian app, the truck has taken 32 kWH of electricity in the past week and added 56 miles of range in 7 days.
That sure looks like losing 4.57 kWh/day and 8 miles rated range per day while the truck is sitting idle.
Am I interpreting these numbers correctly?
I did call Rivian service, who said this is more than expected, and they are scheduling a service appointment for me.
Here are some screenshots. The second is from our Model 3 which is plugged in and parked right next to the R1T. It has taken 0 charge in the same time period.