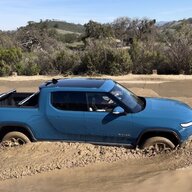 First Name

Mike
Joined

Jan 12, 2022
Threads
Messages
Reaction score

736
Location
Vehicles

eGolf, i3, R1T
Warning: this is a stupid idea, but I find it amusing. Please skip if you don't like bizarre thought experiments.

Anyone have experience towing a car trailer with a 3500lb vehicle on it? Specifically, R1T with 21" roads, keeping speeds sane (60mph-ish) and assuming flat with minimal headwinds. Approx range hit?

Backstory: We might be upgrading the i3 to a newer model with a larger battery (ours is a '15 and the battery is teeny). We found the ideal candidate in San Diego. But because even that larger battery is still small, it would be a bear to drive 500+ miles considering the stops (150 miles best case if we don't go REx, 200 if we do, but prefer not to bleed it down to require REx, so more like 120 …). So I'm considering throwing it on a trailer … but then the range on the truck might drop to poop in which case, why not just drive the i3 in the first place. LOL - yes I understand how silly this is, but it's a fun exercise and I'm looking for an excuse to do a road trip.

TL;DR - I have a stupid idea that makes no mathematical or financial sense, but am going to consider it anyway because Fun.