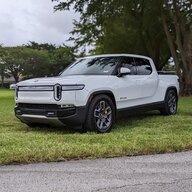 Joined

Dec 10, 2020
Threads
Messages
Reaction score

229
Location
Vehicles

2014 Jeep Grand Cherokee, 1989 Trans Am GTA
Occupation

General Manager - Retail & Warranty, Consultant - Automotive systems
Finally after 1,009 days since i pre-ordered, I took delivery of my GW R1T w/ BM interior on the 20" AT wheels. My delivery was a bit different than what I had expected, I am in South Florida (Miami) and the service center closest to me that was open was the one in Orlando. I was scheduled for 1-2 pm delivery and hadn't heard anything all morning, so i decided to reach out to my guide, He assured me no issues and everything was on schedule. 1:00... 1:15...1:30... 1:45... 1:55... and finally there she was, rolling up with my delivery guy behind the wheel. I had been looking for a tow truck and didn't see any so it caught by surprise when she turned the corner and parked up from at my place of business. They had to unload at a home depot a block away due to the parking lot not being big enough for the unloading of my R1T and loading of my Jeep Grand Cherokee. The entire process was easy as cake.... sign here, sign there, I.D. keys, title, wait a sec.... sign here as well... oh wait, one more to sign.... cool she's yours said my delivery guy. maybe 20-25 mins in all. He then asked if I wanted a walk around the UI and I said sure, 30 mins later he was on his way and I was the proud owner of a new R1T.
My takes on the process:
1) hands down, the best buying experience I've ever had.
2) even when I had an Issue, which really wasn't an issue everything went fine, for starters, my guide was out, time off I assume when I got my email to start the 8 steps, I had a back up guide contact me and help with an issue on one of the steps not working, literally 5 mins from email to fix. and the second part was when my delivery was cancelled due to them finding a paint issue at the delivery center, they informed me of the issue, which I am thankful, if this was missed, i would have probably been with out the truck for over a week to have it fixed with the shipping back and forth with Orlando.
3) delivery guys, in my case 3 of them, 1 driver and 2 field operations guys I'm guessing, they were the nicest guys ever and made my experience that much better.
4) even though I read about people's issues on communication with Rivian people, these guys seem to have it all down, really good. I had made a comment to my guide about taking a trip with my buddies to go off-roading to several places, and he shared that with the delivery guys and they asked me about my plans, nothing seemed forced they truly wanted to hear about it and seemed very enthusiastic about how awesome the trip sounded.
5) the experience, was awesome and I cant complain about anything. now time to go and enjoy the truck.
Last edited by a moderator: