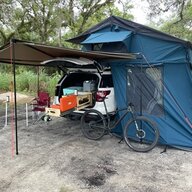 First Name

Erik
Joined

Aug 20, 2021
Messages
Reaction score

6
Location
First Name

Erik
Vehicles

2019 Ford Explorer
Occupation

Professional Bicycle Fitter
Hey Everyone, I'm new here. I've wanted a Rivian for ages and I'm now just able to order one. I'm super excited but I've got a big dilemma right now, I'm an overlander and mountain bike racer, I do a LOT of driving and traveling in addition to my daily driving. I currently use a Ford Explorer specially modified to do the job, which is also my daily driver, I drive a LOT (like 25-30,000/ year). With the modifications my explorer currently gets about 16mpg city and 17mpg highway. I fill up my tank like 12-15x per month. So I'm REALLY looking forward to an electric off roader haha, the R1T.

The dilemma is that my driving is killing me ($750/ month just in fuel) I can't really drive less because of my career. Even without overlanding and racing I drive 20,000 per year. I'm debating trading it for a Subaru Forester which will increase my mpg to 24mpg city and 28mpg highway (on 87, I currently use 93) and yet still allow me to overland.

BUT, if I order a Rivian R1T and the wait is only like 8-10 months to get one, I'll just wait it out. BUT, if the wait is like 18 - 24 months to get a R1T Explore then I'll get a Subaru and trade it after the 2 year wait when my new Rivian is ready.

My question is, if I order one now what is the timeframe to get the order in?