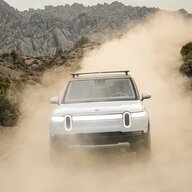 First Name

Mark
Joined

Feb 17, 2020
Messages
Reaction score

114
Location
First Name

Mark
Vehicles

1981 Volvo wagon; 2006 Tacoma SR5; 2009 Toyota Prius
The Fast Lane
, TFL, run by Roman and Andre, is the number one truck review site on YouTube. They just released a nearly one-hour long video looking at the 8 electric truck wannabe makers, including Atlis, Bollinger, Ford, GM, Lordstown, Nikola, Rivian and Tesla.
For forum members, key takeaways are when Roman talks about all of these trucks as
prototypes
, at 6:20, and the huge obstacles to overcome before any prototype can actually make it into production, and when Roman and Andre discuss
Rivian in particular, between minutes 32 and 38
of the video.
The other noteworthy comment is when Roman says, "two years after Rivians launch at the L.A. Auto Show in November 2018, Rivians are looking dated, no longer new". I, for one, like Rivians' styling and still find it fresh, among light duty trucks, but it's true that Rivians have gotten a lot of exposure in the past 1.5 years and no one is going to be wowed by their styling when the R1T and R1S's finally roll off the line. This goes to how well a vehicle will sell, be accepted by the public, not how difficult it will be to produce.
https://insideevs.com/news/428795/video-8-overhyped-electric-trucks/amp/
Last edited: