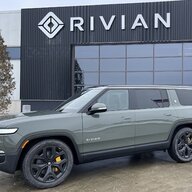 First Name

Bob
Joined

Feb 11, 2021
Messages
Reaction score

422
Location
First Name

Bob
Vehicles

Tesla Model S, Jeep Grand Cherokee; (LE - R1S)
Occupation

IT
Interesting. Unless I'm missing something, that seems like a shortsighted approach. Sure, that replaces the revenue lost due to the adoption of more energy efficient vehicles but it also serves to discourage the use of said vehicles hence encouraging people to retain older more polluting vehicles for longer. The cost of maintaining roads is a function of miles driven and vehicle weight but not of fuel type or efficiency.

To my point about throwing out current ways and starting from a clean slate, the problem with this Oregon approach is it seems they framed their requirements to offset lost gas tax revenue instead of to develop a holistic solution to fund building and maintaining roads. Sure, the gas tax pays for roads but the way you think about the problem influences the solution. While a gas tax was a reasonable and convenient way in 1919 for Oregon to fund roads, it's time for all of us to start thinking about this problem a little differently.
What ever system they come up with it needs to ensure the funds are directly used for the purpose they are collected for. I know in California we have some of the highest gas taxes in the country and they tend to siphon the money off for other things postponing road repairs and then ask for bonds to fix the roads.
I would support a registration fee that had a value based on vehicle weight with a multiplier for miles driven over the last 12 months. That way it would level the field based on usage and impact everyone the same.
Last edited: