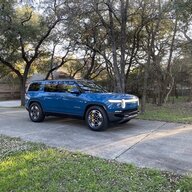 First Name

Alan
Joined

Apr 10, 2020
Messages
Reaction score

73
Location
First Name

Alan
Vehicles

Lexus LX470
Occupation

IT
First - I realize that the battery pack is one of the most expensive parts of the car (if not the single most expensive part/group of parts).

Things "I think" we already know:
Rivian does not intend to support upgrades from smaller battery packs to larger battery pack.
The battery packs are removable and can be removed in about 30 minutes. (I assume by a qualified tech)

But I am still curious if it would be technically possible to trade up batteries as technology advances.... for instance if within the next five years Rivian starts making Solid State Battery packs or some other battery pack with improved technology would it be technically possible to swap out the pack for one with more range but in the same form factor? Let's say solid state batteries, Li-S, or some other tech with much higher energy density becomes readily available. Assuming a 5x increase in density the 180kWh pack could be replaced with a 900kWh pack also increasing the range to a ridiculous 2000 miles all else being equal. I understand it could certainly be cost prohibitive for many and the inevitable question why not just buy the newest model vehicle with the new battery for those who could afford it, however, I could see in many cases where someone would want to improve their range with their existing vehicle.
The other "thing" I think might need to be replaced is the actual charger as I am not sure if it is built into the battery pack or is in some other part of the vehicle but I imagine with a much higher density battery a 160kWh charger would not be sufficient to charge the thing.

What else might need to changed out on the car for something like this to be a reality?