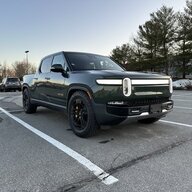 First Name

Ben
Joined

Mar 29, 2023
Threads
Messages
Reaction score

59
Location
Vehicles

2023 Rivian R1T
Occupation

Former Burger Technician
Anyone have a fix for the whistle sound caused by the Yakima SUP Daw surf board rack when mounted over the cab using the Rivian Crossbars?
Some context: I have the Rivian Cross Bars and I already owned the Yakima SUP Dawg surf board rack before I took delivery. I was using the Yakima SUP Dawg with my Chrysler Pacifica Hybrid which is already very quiet - I did not experience whistling or significant added road noise when the Yakima rack was on top of the Pacifica thanks to its aerodynamics (funny to say about a minivan).
When driving my R1T with only the Rivian Crossbars on top of the cab, I do not experience the significant air noise that I have seen others complain about in other threads on here. Sure, it's not silent; but I'm not about to wrap my crossbars with paracord to try and eliminate what little sound it adds.
When I add the Yakima SUP Dawg board rack to the Rivian Crossbars, that's when it gets bad.. At 30/33 mph the whistle starts. It gets worse as I accelerate to 45 mph. The whistle goes away over 50/55 mph and turns into more tolerable albeit not ideal air sound.
Before you start
I'm not concerned about efficiency (I'll remove the racks when I am) or taking the racks off when I'm not headed to the beach. I'm 6'4" and while I wouldn't say it's difficult to remove the Rivian Crossbars with the Yakima racks attached, it's definitely not so easy that I want to take them off and put them back on only when they're needed. In fact installing the crossbars on my own has me concerned I'm going to have an error in depth perception and put the crossbar mount right through the top of the glass roof. Having put the crossbars on a few times already, I am certain someone else has caused damage to their glass roof by now.
My surfing/SUP brothers and sister, PLEASE, tell me you have found a configuration that eliminates the whistling!
Initially I had the Yakima rack placed as far to the driver's side as possible but that caused even more whistling than I'm experiencing now. Today, I moved the Yakima racks a little towards the center (pictures below) but still on the driver's side and that definitely helped but did not completely mitigate the problem. I'll try centering them another time and let you all know the result but that's not really practical as you may well know.
Thanks in advance for your help.