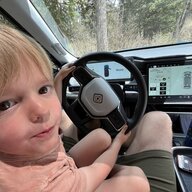 First Name

Sam
Joined

Sep 12, 2021
Threads
Messages
Reaction score

606
Location
Vehicles

This field needs to be bigger, I'm at 10 cars…
Occupation

Nerd
So I did this the other day, and finally had a chance to drive home. While the truck still knows I'm "home", the navigation is still kinda broken for me, in that it never completes the navigation when I pull in my driveway.

So this didn't fix the minor annoyance with the nav/GPS setup for me.

I did notice that it converted the GPS coordinates back to my home address when I was setting it, so maybe it still ignores the GPS coordinates for navigating.
i wonder if your driveway is the "perfect" length to foil this system. I have the truck with me in Maine now, where our driveway is very long (1000 ft or so), will be moving it to our house in Santa Fe this summer where the driveway is shorter, but still long (500ft?), we'll see how it does…