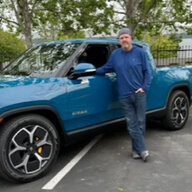 First Name

Keith
Joined

May 23, 2023
Threads
Messages
Reaction score

398
Location
Vehicles

2023 R1T, 2021 Toyota RAV4 Prime
Occupation

Making money
I've been curious about this the entire time. For those of us who don't want to use the "autonomous" features, will be still have to pay for them? Is the function going behind a paywall like some of the other options?
I am so old school that I think autonomous driving is at best useless and more of a risk.
Driving needs to be hands on the wheel at all times. I think people will think "Heck, I can go drinking and get drunk and just have my car drive me home".
Driving needs to be an attentive activity instead of "trusting" some software and sensors. Software and sensors are great to assist in driving, but it shouldn't be the be-all-end-all. Sensors can't evaluate with discernment like humans....yes, AI is getting better, but I wouldn't trust some sensors to drive my car. Our first service ticket was because some headlight sensors went bad, imagine that but with the speed, distance, and obstruction sensors going bad.
I personally don't think we are there yet with autopilot and I for one won't be using it and especially not paying for it. I would rather pay a discount rate for electricity, update the software to allow messaging, be able to customize the interface (move things around), and stop making me log out of Spotify and my wife log in (and vice versa) every time we get in the car together.
Will it get to the point of being able to have autopilot?.....absolutely, but it shouldn't be the sole method of driving.