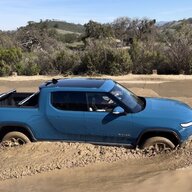 First Name

Mike
Joined

Jan 12, 2022
Threads
Messages
Reaction score

352
Location
Vehicles

eGolf, i3, 135, R1T
Came up to Incline to see family for the turkey holiday. Left Half Moon Bay around 9a today. Stopped at the new RAN in Sacramento at the REI, and again at the new RAN in Truckee.
HMB -> Sac:
Conserve mode
114.1 miles
41.9kWh
2 hours - 57mph average (note: drive computer said 1 hour, 60 minutes … so lol)
Plenty of time spent at 70mph
Sac -> Truckee
All-purpose mode
95 miles
55.8kWh
1:34, 60mph average
Plenty of time spend 75mph+
Both RANs fired right up and charged at maximum rate until the charging curve took a hit. What I thought was interesting is that it would state the time to charge (to 85%) at one time, but it must have assumed full-tilt up to 85%, because it took considerably longer. For example, the Truckee charge said "12 minutes" and it took 27, when I finally bailed at 80% (from around 40%).
Sacramento: 6 DCFC and 4 L2 Destination chargers
Truckee: 4 DCFC and no L2
Both locations had a spot to pull in with a trailer.
What was interesting was the layout in Sacramento. The chargers are located pointed opposite the parking spots in both Sac and Truckee, but the Sac ones are physically in the spot to the left. See images for detail.
TL;DR - you can get from Ocean to Mountain from 100% with some buffer even if you're hauling ass up the mountain, as long as you don't go too nuts in the flatlands.
Last edited: