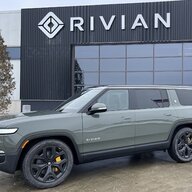 First Name

Bob
Joined

Feb 11, 2021
Messages
Reaction score

1,065
Location
First Name

Bob
Vehicles

Tesla Model S, Jeep Grand Cherokee; (LE - R1S)
Occupation

IT
Great analogy! When I'm paying for a GC to remodel or build me a house and he chooses to mow my lawn instead of fixing the plumbing, yes it would frustrate me. Especially if he promised that I could move in months ago, yet I can't because I don't have working plumbing...AND then he goes on and on about how nice the lawn is...but it doesn't matter because I can't move in. But if he focused on the plumbing, at least I could move in, and he could get to the lawn later. The lawn (camp kitchen) doesn't directly impact the timing of when I can move in or even directly impact the house itself (R1T). The lawn might make the house look better and might be needed or wanted overall, but it isn't a critical path for delivery.
There is a reason landscaping is the very last thing someone completes when building a house.

I would fire any GC that delayed my move in date and then mowed my lawn and went into more detail about the lawn (because that is the only thing he was able to do on time) than the plumbing, electric, foundation, etc.. And then told me more details about the foundation and plumbing would come, but meanwhile take a look at how nice the lawn looks!
You can fire Rivian, just click the cancel button, problem solved.
I am just really surprised at how worked up everyone is getting over these delays. There are so many real issues in the world these days that delays on getting a vehicle seems so low on the list of things to get worked up over.