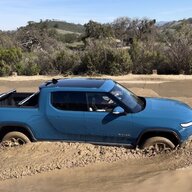 First Name

Mike
Joined

Jan 12, 2022
Threads
Messages
Reaction score

2,056
Location
Vehicles

eGolf, i3, R1T
*Edit (the caveat): the down tube clips loosen on their own after limited driving, and needs to be addressed. I am demoting this from "a winner" to "a reasonable pad that perfectly fits the truck's tailgate but with one major flaw" … planning to modify the downtube clips to a simple double-ring strap when I get a minute.
I ordered the tailgate pad when it popped up in the gear shop last Friday. It arrived a couple of days ago, but I hadn't had time to install it until today.
Relatively short review:
1) Quality seems decent. It's not felt-covered like my Fox pads were, but it does appear to be relatively well made and has enough protection to keep the tailgate paint from being scratched. 10/10 for the money, for sure.​
2) Fit is perfect. Once it's strapped down, it's very clear it was designed for the Rivian and not just a knockoff of an existing pad.​
3) First installation is easy, 2nd installation is stupid-simple. It has 4 clips for quick-release, and re-installs in just a couple minutes. Very pleased here.​
4) Hold-downs are thoughtfully designed, with a quick-release clip and a velcro hold for the strap to keep it from backing off.​
Overall, super pleased. Much better than loading up the Kuat every time for sure (though that's sticking around for trips and the e-Bike).
Last edited: