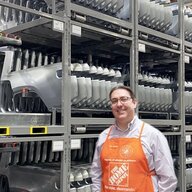 Joined

Nov 26, 2018
Messages
Reaction score

130
Location
Vehicles

Rivian
Rivian Files Patent For Between-Seat Airbags
Before we get into the details of Rivian's new airbag paten application, let's just state for the record that the fact that the company used a sedan in its description drawing doesn't mean its working on a new stealth model. The company, as far as we know, is only working on building all-electric SUVs and pick-up trucks. But patent applications are strange beasts, and this one says that the images are "intended to be illustrative and not limiting." So, let's focus on the actual idea in question here and not on the pseudo-Kia Optima that's pictured.
The problem Rivian is trying to solve with this patent application,
Number 15/925114
, which was filed in March 2018, is the way two people sitting in captain seats have a space between them that can cause problems during a crash. The patent is for a new kind of airbags that "may be deployed to fill an interior space in a vehicle to support persons in a vehicle that is involved in a side crash, particularly, a person facing a far-side crash." These airbags, deployed in pairs, would be able to inflate into that empty interior space and, based on their shape (symmetrical or asymmetrical) and arrangement, protect the person sitting in the seat from her neighbor or the seat in front of them.
The airbags could be designed in such a way that they could be allowed "to wedge together and to provide support for vehicle occupants" or "to act together to support a side of the vehicle occupant on a near side of the crash so that person is contained from the other person facing the far-side crash." Rivian says that letting the airbag system know where on the exterior the crash occurred is important so that the airbags can deploy correctly to protect a person sitting in a seat with these sorts of airbags in the right way, depending on if they're on the side closer to or further away from the crash.
The airbags Rivian describes in this patent application - and we should note that just because a company files a patent application does not mean that such a product will ever actually come to market - could be installed in the backs of the front seats or in the captain's seat itself. The main ideas here are that the airbags are rigid enough in the right places to encircle a person inside them, that they function no matter where the front and rear seats have been moved (forward or further back) and that they work without relying on the side of the vehicle or the dash board as a supporting feature. Seems reasonable.
https://www.forbes.com/sites/sebast...patent-for-between-seat-airbags/#5255007f6252