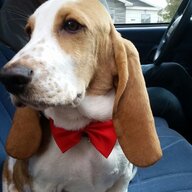 First Name

Brian
Joined

May 3, 2022
Threads
Messages
Reaction score

56
Location
First Name

Brian
Vehicles

La Silver R1T (7/14/22), Ford Explorer
Occupation

Assistant Principal,
Good Morning all,
Just thought I would detail our delivery experience at the factory in Normal.
First, We went from July 1 start 8 step email to truck is finished by July 7th. I got #9151 as my LA Silver R1T. Delivery was scheduled 11am July 14th. Martin, my guide, was amazing all the way through this process and was super excited for us and was going to meet us at Normal when we got there.
We sent our information to Martin and our delivery and factory tour guide, Lucas and they set us up with an amazing day. We got to factory and the guard says, "You must be Brian and Ashley??" He got us a spot right at front of factory. He told us Lucas would be out in a second. He introduced himself and took us in the main entrance for our tour and introduction to Rivian. Lucas was a super cool guy and very knowledgeable of all thing Rivian. He was super excited to give us our tour and tell us about what an amazing company and setup they had at Normal. We got to go out on the catwalks to view production. The Amazon line was finishing up production on a few of the delivery vehicles. They had RTs and multiple RSs in the next production line. We got to see a number of RSs in the finish process and prepping for delivery as well as their big brother RT. Martin joined us on the tour as well. This was one of their first tours with customers and both were as nice as could be, answering our questions, showing us all the different steps in production, the amazing atmosphere for employess....it was really quite an awesome place and really quiet for a factory. All you hear is tire squeal
Once finished with tour, Lucas and Martin introduced us to James who was going to go through the final paperwork and delivery of our R1T. Signed 4 pages, and James says "So now lets go check out your truck." There it was sitting just outside factory doors. James showed us around the truck as we asked our questions and and then it was " so you wanna drive this thing??" Hell's yes I do.
He took us for a drive, showing us the different ride heights, suspension adjustments, etc. and of course the "put this thing in sport mode and lets do a zero to sixty." OMG...never driven anything with that kind of torque and acceleration in my life. Amazing vehicle all the way around. Got back, said our goodbyes to James, Martin, and Lucas and on our way for the adventures to begin.
I have to say....Martin, Lucas, and James are all top notch individuals and employees for Rivian. You can tell their passion for the company and the products they make and want all those who get one to spread the word on what an amazing vehicles they build.
If you get a chance, take the factory delivery. I'm lucky enough to only live about 2 hours away and knew all along that this is what I wanted. It did not disappoint.
Kudos to Rivian....and to us early adopters. Truly is an amazing truck that can do everything. A sports car in a truck body....that can go 0 to 60 in under 4 seconds and then you can pull off the road and rip through a field, or an off-road trail and roll back on the highway. Awesome....
Looking forward to those adventures....and spreading the news on Rivian.