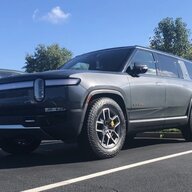 First Name

Winston
Joined

Feb 2, 2020
Messages
Reaction score

7
Location
First Name

Winston
Vehicles

Yukon XL Denali, Preorder - Model Y, and RS1
I for one can't wait for my RS1 and then the eventual L3 capability down the road, but here is my question:
After reading a number of articles surrounding autonomous driving, Tesla always comes up as the current winner for being the farthest ahead with their system. Excluding the arguments regarding radar vs lidar vs cameras etc. and Tesla's decision to go with their hardware setup, one fact that is hard to dismiss is the unbelievable amount of data that Tesla has gathered up to now. They have supposedly gathered over 1 Billion miles of data! So, if this is the case, how do any of the other manufactures catch up with Tesla? I am not necessarily concerned with who will win, but, is it possible to have a L3 autonomous system within a "short" amount of time without all of that data? Even Tesla still isn't really to L3 with 1 Billion+ miles, so how can another company get to where Tesla is quickly?
Please don't make this an argument about Tesla vs Rivian vs Others, but instead, discuss the technological possibilities and futures for me and others who may have the same questions.
What do you see as the pathway towards L3 and beyond for other manufacturers? (Of course I really only want to hear about Rivian!