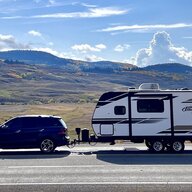 Joined

Jul 7, 2021
Messages
Reaction score

57
Location
Vehicles

'99 SLK230, '10 4Rnr Lmtd, '17 GLE43, '14 CnAm SxS
Occupation

Aerospace retired
I messaged this couple several times on their journey. The guys at TLF missed or at least didn't share several points I observed that may have helped this couple. I think at the beginning of their journey they did not realize the impact of the charging curve and how much it tapers as you get into it. Early in their trip, they were stopping at around 30% and then charging to 80% or more. I and others were suggesting if it would fit their travel plans to get lower into SOC as DCFC could add more miles faster. Another major factor was many times they noted their speed of 75-80 mph, which is a major blow to the range and overall travel time. A third factor, it seemed they were using multiple apps to find charging stations and possibly not using Rivian software sometimes? If that is true, I would doubt the R1T would be preparing the battery pack in anticipation of charging which may also lead to extended charging times.
Thanks for pointing out your Third Factor..I hardly ever see that mentioned in our forums here (maybe I don't read enough). And I do recall seeing somewhere how the Rivian routing function will apparently prep the battery in some fashion based on a planned charger stop. I assume it's essentially getting it to the best temp; but maybe something else.
As far as this particular experience goes it's not too surprising or worrying for me personally. Towing that distance, on the 20" wheels, during colder temps, and apparently at 70+ mph over several legs..with perhaps less than optimal planning as you point out..that's reality.
My biggest worry and still TBD..are the weights, loads etc for the Max Pack I've ordered. CS will not yet address my questions for that type of details.