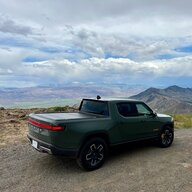 Joined

Nov 17, 2020
Messages
Reaction score

46
Location
Vehicles

Model 3, Sprinter, KTM TPI, BMW R1250GS
Occupation

Retired
Just got off a chat with Christine and very concerned about the location of the tie down points in the R1T bed.
I've always been planning to haul Mountain bikes and Dirt bikes in the bed of the R1T. Most pickup trucks have multiple tie down points in the corners of the bed, the R1T does not as they are on the bed floor and not located at the extreme front (or rear) of the bed.
If you've hauled bikes or motorcycles you know you need tie down points at the back of the cab (front of the bed) to pull the bike against the front of the bed to 'lock' in the bike. This is even more important with motorcycles as you are compressing the forks.
Rivian has decided for some reason not to install anchors or mounting points in the corners of the bed and I don't want to have to go drilling into the bed of my brand new $75K vehicle to add something that should already be there. Anyone else looked into this?
Also, I'm concerned with ordering the LE that the powered Tonneau cover will not retract all the way so it doesn't impinge on the length of the bed. Again, if you haul bikes or motorcycles you need a flat vertical surface (front of the bed) to lock the wheel into a chock or just the bed. If the powered tonneau cover doesn't fully retract to allow this that's a problem. The bed is already short and even subtracting 3-6" creates an issue. I've had other pickup trucks and had to remove the cover entirely or flip it up to avoid this.
If it doesn't retract all the way (I can't see how it can) it makes no sense for me to order the LE. I'm also wondering if the manual tonneau cover can be stored in the gear cubby...??
Hoping Rivian can add some simple tie down points to the bed corners. Seems like a no brainer.
Any one else have these concerns?
Last edited: