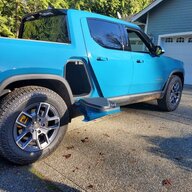 First Name

Jared
Joined

Mar 12, 2019
Threads
Messages
Reaction score

3,968
Location
First Name

Jared
Vehicles

2004 Honda Civic EX, 2022 Rivian R1T LE
I know many of us work in locations where we can't bring our phones into our work sites. We lock our phones in our vehicles during the day, and many of us also have Phone-as-a-key and proximity unlock enabled.

If you do this, the vehicle will randomly unlock itself several times a day, making stealing it as simple as just getting in and driving away!!!!!!!!!!!!

I have a ticket in to resolve this behavior but, in the meantime, you should disable proximity unlock if you lock your phone in your truck!

Edit: Just to add a little clarity here, as I feel there is some confusion. The scenario I'm describing is as follows:

1. PaaK enabled.
2. Proximity unlock enabled.
3. Auto-lock enabled.
4. Phone in the truck (not on the charger).
5. All doors shut.
6. All windows up.
7. Truck is locked from the outside using FOB or NFC.
8. Vehicle locks completely.
9. After some time, and at some unknown intervals, the truck will unlock itself with no other interaction.
10. Auto-lock will re-lock the truck after the pre-set time interval.
11. 8-10 repeat.
Last edited: