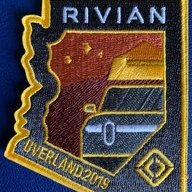 First Name

Lionel
Joined

Jul 6, 2019
Messages
Reaction score

288
Location
First Name

Lionel
Vehicles

BMW740i, Trailblazer, Audi Cabriolet
The train ride from Oakland is pretty damn long, 51 hours, and that's to Chicago. Cheap, $141, but long. Then the waiting time and travel time to get to Normal. So, at least 55 hours. Rather than arrive frazzled and sleep deprived, flying is beginning to sound better even if it doesn't really allow one to appreciate the country you're flying over.

Maybe if there's enough of us from the same area and we're picking up around the same time, we can caravan. That might be fun. We can easily share what we're learning about our Rivians and the country along the way.

I'm still not sure which model I'll go for, though I'm leaning the R1S way, and I'm relatively early in the preorder queue, #14XX. So next Summer is the chosen time.
I am not too far behind you...I am around the 50xx pending any cancelations in front of me...the pandemic would prevent me from flying and potentially from even going to Normal. I can do a factory tour after I receive delivery---again all pending this damn pandemic.