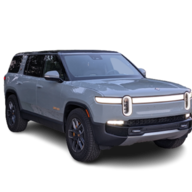 Joined

Mar 12, 2019
Messages
Reaction score

4,971
Location
Vehicles

Jeeps, 2500HD Duramax, R1S Preorder (Dec 2018)
At your request
@DB-EV
.
Pellet grills/smokers are a cheat code for smoking meats. They burn compressed wood pellets that provide both heat & smoke. You set the desired temp & there is a controller that runs a fan and an auger that feeds the wood pellets, so they can very precisely regulate the temperature.
I love BBQ & have used traditional offset smokers for years, but they're a lot of work & knowledge to keep them rolling good smoke & regulating temp.
I'm all about ease of use & excellent end results, so smoking with a pellet grill is my style. I'm on my second one, and highly recommend paying for a quality unit with a PID controller. My first one would have temp swings +/- 15°, but my new one stays SPOT ON with less than 2° variance & even that's rare. New one is a Recteq RT-700 and I can't say enough good things about it.
Oh yeah, it connects to wifi for control & monitoring. You can turn it on/off, monitor or adjust grill temp, and see the temps on 2 "built in" meat probes that come with it, all from your phone over the Internet.
BBQ lover & tech nerd's dream...