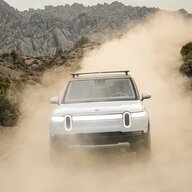 First Name

Mark
Joined

Feb 17, 2020
Messages
Reaction score

327
Location
First Name

Mark
Vehicles

1981 Volvo wagon; 2006 Tacoma SR5; 2009 Toyota Prius
I'm not an off-roader though I did on occasion take my Land Cruiser into the wilds of BC and Washington State when I worked in Vancouver years ago.
We've seen videos showing the R1T in off-road testing - trail running, rock climbing, drifting and the like. Ford just unveiled its Bronco revamp and Jeep introduced a new Wrangler last year. Here's a detailed examination of these two off-road beasts, and the
choices Ford and Jeep made to give them beast levels of capability
.
https://jalopnik.com/an-extremely-detailed-look-into-the-ford-broncos-engine-1844389830
I don't think Rivian aims to be an off-road beast. Camping, overlanding and remote trail exploring seem to be more where it's aiming, but the arrival of the Bronco and Wrangler make me wonder exactly
what off-road markets
Rivian is targeting
? If we categorize off-roading as mild, moderate and extreme, the first two seem to be the target. That's fine as long as large numbers of Rivian owners aren't interested in heavy off-roading.
But I raise the issue as a matter of market positioning. Two years ago, when Rivian brought its prototypes to the LA Auto Show, there wasn't any competition, either in terms of BEV trucks or modern, general purpose adventure vehicles. Now, the two categories are filling up. If they are combined, there's only Rivian at present, but that leaves me wondering how off-road capable the CT will be and when the off-road versions of BEV Ford F-150s and GM Hummers will arrive.
I guess I'm stuck. Is it better to be first and potentially define what a market might be or be a late comer/fast follower and benefit from early bird mistakes? The conventional wisdom has been in capital intensive industries that don't change a lot technically, the auto industry, as a classic example, it's better to be a first mover. But the alternative energy, truck market is not classic and battery, battery management and AV technologies are moving pretty fast.
I still feel Rivian's doing it right and there's an awful lot to getting it right, but I am getting antsy. I wish the configurator was here and the lines in Normal were ready to roll.
Is anyone else worried about how the market is filling up and potentially filling in?
The silver lining is the Amazon order and investment, but I don't think Rivian wants to be known as the BEV commercial van pioneer.
Last edited: