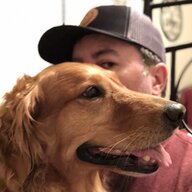 First Name

Steve
Joined

Jun 28, 2022
Threads
Messages
Reaction score

133
Location
First Name

Steve
Vehicles

Rivian R1T, Tesla S, LX470, R1200GSA, 500EXC-F
Hey All. I guess I'll start here. Thanks to Admin for being so responsive.
I don't plan on doing anything crazy (yet) to our new R1T but we are doing some things here and there and I like to pass along what we like, what works, etc. More importantly I love to see other builds and the the cool stuff people do with their vehicles (and lessons learned)
Coming from Late 2016 Model S 90D Refresh (still have). Very familiar with EV ownership, charging, road tripping, etc.
I ordered Feb 2019 and got delivery via Rivian Shop in late June 2022. Would have gotten earlier delivery but was holding out for max pack.
My original order was: El Cap, Black, 20" ATs, Off-road pack, Max Pack.
Ended up with: Limestone, Black, 21"s, No off-road, and large pack.
I love the Limestone. Would have preferred 20" ATs and underbody, but enjoying the ride and range of the 21's. I actually like the Large pack over the max pack for my purposes at this point. 325+ range is plenty for me and there are going to be con's on the max (weight/space) with current battery tech.
Changes/Accessories so far:
- Pre-ordered Load Bars and installed them before I left the Service Center.
- 21" Aero covers came off almost immediately.
- Bought black generic caps and put on TWraps logo decals. Working on printing inserts to use factory caps without destroying aeros. Hopefully factory caps will make it into gear shop sooner than later.
- Tinted XPEL XR Plus all the way around: 30% Front Sides, 55% Roof, Back Sides and Rear. May or may not have put 70% on windshield (pleading the 5th). Marked difference in heat in the cabin and visibility. No significant issues with polarized Sunglasses, which was a concern. There IS a little bit of rainbow on other vehicle's windows with polarized sunglasses on but as yet not a big deal. Hopefully will be less dependent on sunglasses due to tint. New shop for me very happy with work.
- Matte Screen Protector Film kit from ScreenProtech on all three screens. I personally MUCH prefer the texture, glare reduction and no fingerprints of the matte protectors. Nice kit.
https://screenprotech.com/collections/rivian/products/rivian-r1s-screen-protech-kit
- Orvis Rear Seat Cover. Size Large. Slate(black) color. Posted already here:
https://www.rivianforums.com/forum/threads/thumbs-and-paws-up-for-orvis-seat-cover.7000/
- Trailer Hitch Pin. Current trailer Pin (with the pin retainer clip) did not fit. The slot on the pin for the retainer clip was too short and we could get the clip in. Ran to Oreillys and getting one of these:
https://www.masterlock.com/products/product/1465DAT
Works great, but obviously does not lock. Towing 7 x 12 Enclosed Trailer was like 'what trailer?'
- 22mm no-mar deep Lug nut socket.
- Wait listed on Rivian All-weather mats.
Plans/Considerations:
- Wheels. Will do something to 21"s just not sure yet. Could be just satin black powdercoat, could be something cool I don't even know about yet... They look decent for now...will look much better with factory caps...but still will likely do something else.
- Tires. Obviously stuck with the Verdes for now. Hopefully some more options will show up. Going to order at least one spare of the verde tires and throw in spare compartment. Hopefully can get a wheel sooner than later.
- Jack. Did not get offroad so did not get a jack either. Considering options. Partial to bottle jacks for this application. Open to input.
- Jack point insert(s). Will need at least one.
- Will likely pick up some 20" ATs when available
- PPF. DEFINITELY doing at least Front, rockers etc. I LOVE the full stealth over Limestone look but not sure I want to commit to that whole thing. (BTW very interesting dialogue with XPEL Shop who is not thrilled AT ALL about the the Rivian offer and argues that you get what you pay for. FWIW)
- I despise Alexa for this application. Sorry I'm one of those carplay guys.
- Cooler. Will likely start with a single Dometic CFX3 and consider a second if we find we are using it a lot and want to be able to have both fridge and freezer at same time. No dual zones that I am aware of fit under tonneau and could end up being more flexible to just have two CFX3s. Have wanted to get one for boating and other activities anyway. Will start with one and see.
- May consider the Builtright Molle panel. Otherwise will need to do something to get dirtbike wheel chocks in at some point.
I think that's all that's fit to print at moment. Would love to hear input suggestion on any of the above and will try to answer any questions I can. And will add to thread as things change.
Rivian on.
Last edited: