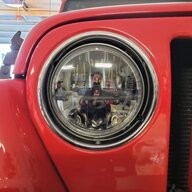 Well-Known Member
Site Sponsor
First Name

Rob
Joined

Nov 13, 2020
Threads
Messages
Reaction score

2,880
Location
Vehicles

Jeep & R1T
Hello my dudes!
Today is a super exciting day - allow me to officially introduce the OpenSourceEV Parts
Rangefinder Key Fob Surround
. It replaces the gimmicky carabiner part of the key fob with a durable, beautiful, colorful, and functional ASA Plastic or Nylon Carbon-Fiber replacement.
Let's be honest - the carabiner key fob that Rivian made for R1T and R1S is neat in theory, but less so in reality. When the novelty wears off, many of us it a bit too bulky, a bit too heavy, less functional that hoped as it opens waaay too easily to be trusted. This item is designed to fix all of that.
The OpenSourceEV
Rangefinder Key Fob Surround
installs in under 5 minutes and replaces the metal carabiner part of the key fob with a strong, light-weight ASA or Nylon Carbon Fiber bit. It drops the weight of the key fob by over half (20 Grams), makes it nearly 2 CM shorter, and 5 MM narrower. It adds a reliable keychain hook.
All of that is great, but it's called "Rangefinder" for a reason. In our testing, locking function from the key fob increases from ~295ft to ~385ft -- an increase of nearly 25%. We took photos of one of our tests, and here is what it looks like:
Max distance the test R1T responds to the lock command issued from the key fob - stock:
Max distance the test R1T responds to the lock command issued from the key fob - with the Rangefinder installed:
Notice the truck responding in the second picture? The white Do Not Enter sign is next to the telephone pole in the second. Your distance may vary, but it does appear that removing decorative metal from in front of an antenna actually helps!
With this item, your key fob is more pocketable, and more functional, but it's no good if the product fell out of the ugly tree. Luckily, it is beautiful, and is available in 9 different colors that are decent approximations of the Rivian colors:
Midnight Stealth (Black)
RJ (Bright Blue)
Not Compass (Yellow)
LA Limestone (Light Grey Silver)
El Capitano (Dark Grey)
Glacier Iceburg (White)
Canyonero (Red)
Launch Forrest (Dark Green)
Dollar Tree (Sparkly Green that I bought by mistake which is on sale day one until it sells out)
Additionally, we're producing a very quantity-limited, black only version constructed of carbon fiber infused Nylon. It's a bit more challenging to install, but it's tremendously robust, feels great in the hand, and uniquely different.
These went on sale yesterday to our newsletter subscribers and are
shipping starting today
! Pricing is very reasonable:
$8.95 for Stealth Black
$9.95 for Most Colors
$14.95 for Nylon Carbon Fiber
A whopping $1.95 for Dollar Tree while they last
You can order here:
https://opensourceev.com/products/rangefinder-key-fob-surround
A few quick notes:
You'll need a T5 Torx bit to remove 3 tiny screws from inside of the key fob. We've sourced an inexpensive option should you need it - the link is on the page.
While the photos posted of the colors are not retouched at all, but we believe that coloring is a bit oversaturated. This makes them appear brighter in photos than in reality. The red, for instance, is a bit deeper and darker.
This is a 3D printed product. it might have very slight ridges on the outside which will gradually wear down with continued use.
We'll also be including a bit of foam with each of these initially in case of any plastic-on-plastic noise. If you end up using it, please drop us a line.
The opensource STL file has been posted! It's available on our Printables page here: https://www.printables.com/social/519281-rob-opensourceev/models
We've also made a video showing the colors and installation:
Here are some additional photos:
There are nearly 40 photos on the product page.
Were happy to answer any questions you may have!