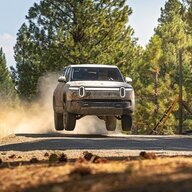 Joined

May 2, 2020
Threads
Messages
Reaction score

10,620
Location
Vehicles

Giulia QV, R1S (S00N)
Occupation

IT
So My R1S was delivered with the following issues
Squeaky seat(Fixed)
Infotainment reporting Wrong Wheels/Tires Coded to the Vehicle(Fixed)
Incorrect Floormat(fixed) Somone from Richmond drove up in a R1T service truck to deliver a floormat.
Window making some noise when going down
Some paint issues
I submitted a ticket about the floormat since I knew that was an easy fix at 6pm on a Tuesday evening. Got a call at 7pm on the same day saying they will take care of it, Dennis asked if I had any other items I said yes the seat and forgot to mention the wheels. Fast Forward to Yesterday morning, I get a call at 11am, hey service is coming out to you for the mat and we already knew about your infotainment issue can we got at 1:30pm to resolve it? I was shocked and like uhhh sure let me juggle some things around.
1:15pm Will Arrives
Will was a former Subaru tech who was mega cool and we got to talking about Rivian, Cars, and the company. He is a huge fan of the company and from what I can gather genuinely loves working for Rivian. I told him about the other issues and his exact words were the following:
Whatever issues you have, submit them, even if they are minor, it makes us better and helps us delivery a better product. We are going thru growing pains right now and we are all working hard but don't take it easy on us, just give us time to solve things. If you can live with some defects until the schedule clears up at the very least record them the day you get the car, do a full inspection, submit the tickets so they are at least documented for future repairs/fixes.
He told me his schedule and yes these folks work hard, but they are mega knowledgeable and solved my first three issues. He also recorded a small video for
@fletch
on a minor issue he is having so he was mega cool for doing that.
If the company is made up of people like Will I will have infinite patience and be a life long customer. It was such a great experience, I low key would love more reasons for him to come back out (not really LOL).
Pics of Fixes
Before
After
Old mat in the back