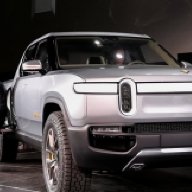 Joined

Feb 13, 2019
Messages
Reaction score

333
Location
Vehicles

Subaru Outback XT LTD
Building on PoorPilot's post, here's what I picked up as the wife and I made our way Saturday through Rivian's display at the auto show. Let me say up front I found the staff extremely friendly and knowledgeable — and patient! — as I rattled off as many questions as I could think of.
See the two vertical slots in the trim around the frunk, above the headlights? Those are finger holes, and they enable you to lift off the trim section to access some routine maintenance features — including filling up the washer fluid reservoir.
During the show, Rivian Official posted video of a drive in the R1T from downtown Manhattan to the Hamptons dunes. Did anybody else see this in the video? The tips of the front light bar are your turn signal indicators. Cool.
More info from the Rivian reps I spoke with.
— Like Tesla, Rivian drivers can expect over-the-air updates to their vehicle's software - which includes the Battery Management System. Meaning, no matter what size battery is powering the vehicle, expect that as the Battery Management System improves, so will your range and driver performance in various ways. They couldn't specify how much more range to expect (but one did say that changing the chemistry in the pack would capture more range (seems obvious) than updating the software). Indications are that these updates will remain free for the time being; however, there will be various features in the software that remain "locked" to some, and "available" to those who choose more capable and expensive option packages when they buy their vehicles.
I was concerned from my experience as a Mac/iPhone user about legacy support. The reps I spoke with said support would be available for the life of the vehicle, meaning that unlike your phone or old MacBook, your truck/suv won't be deemed too old and dropped for support as it ages.
Other points.
— Could carrying along an external gas powered generator add a few miles in a pinch in an emergency? Yes.
— Both the fob and phone app will preheat and cool the cab. The seats will offer heat and cooling.
— The dash interface screen will automatically route you to charging stops, and tell you the expected amount of time the vehicle needs to charge before traveling onward.
— Third party storage boxes, like Thule, will integrate with the racking crossbar system.
— No pricing yet on the 135k pack. I reiterated that a lot of us are hanging our decision on the cost/options available with that pack. I also suggested they think about the traditional truck buying market and offer more visuals about towing capability, rather than offroading. Who says pulling up to a job site with a flatbed loaded with a skid loader, or pulling a horse trailer isn't an adventure? ;-)
— No firm response when I asked about battery cell production delays causing delays in vehicle assembly. Apparently cell makers LG Chem and Panasonic are both delaying production at Tesla and for Audi's e-Tron.
— Likewise, no comment about making Ford "designated Rivian service centers."
Chilewich: It's not only a fun word to say, it's the durable, hoseable fabric in the floor mats, and in the gear tunnel. Meet textile designer Sandy Chilewich and see how her company is helping Rivian and other clients grow their businesses. Visit the link:
Actually, I think it's cool how Rivian is finding these non-traditional vendors to source some of their custom components. I'm not for sure, but I believe this is the source for the wood interior trim — Tyler Clark, 1woodninja on Instagram.
Lastly, Rivian wasn't the only show truck on display in New York. Volkswagen was showing its Tarok pickup concept, which I think is being considered as both a fuel-efficent 4 cylinder and a hybrid/full EV. The lower section of the passenger cabin also folds down to extend the bed even farther into the cabin, as you can see from the pictures. Honestly though, compared to the R1T, this was giving me Subaru Baja vibes.