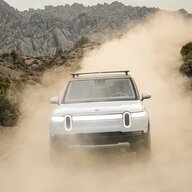 First Name

Mark
Joined

Feb 17, 2020
Messages
Reaction score

188
Location
First Name

Mark
Vehicles

1981 Volvo wagon; 2006 Tacoma SR5; 2009 Toyota Prius
Lincoln's Aviator is getting an awful lot of good press. It's being called the new American standard for luxury SUVs and better than the Bavarian competition. High praise, indeed.
https://www.msn.com/en-us/autos/aut...erican-luxury-car-in-a-generation/ar-BB14zB1c
Quibbles about the Aviator focus on performance rather than styling, interior appointments, fit and finish. Performance lags in the hybrid version as the ICE and battery coupling is uneven. The 400 hp ICE version performs well for a 3 row SUV, but it doesn't accelerate like a R1S or deliver outstanding mpg/e-mpg numbers. And, of course, it doesn't go off-road.
A Black Label Aviator, a high level trim, goes for mid $70K. How does a Black Label Aviator stack up against a 3 row, 135kW R1S? Which would you buy and, if you're leaning the Aviator way, why and what would it take to change your mind?
The comparison's unfair because the R1S isn't in production. But, if it was,
in terms of styling, interior appointments, fit and finish, do you prefer an Aviator or R1S?
In terms of performance, there's really no comparison though, as many of us have indicated, service, warranty and charging are key concerns.
I'm curious. Is the Lincoln Aviator the SUV the R1S needs to beat or this is an apples vs oranges comparison? What's the competition for a R1S (and R1T)?
Last edited: