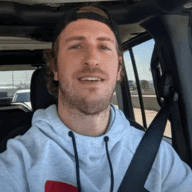 First Name

Carter
Joined

Jan 12, 2020
Threads
Messages
Reaction score

904
Location
First Name

Carter
Vehicles

Toyota 4Runner Limited '16
Hey everyone!
My truck is almost a month old and overall doing fantastic, but there are a series of issues that the Rivian Service Center will be taking a look at. I wanted to list them here to see if anyone else has had similar issues and, more important, if you've had any luck learning more / resolving them. For what it's worth, I'm on software version 2022.11.2 and am told that I should be getting an update soon-ish.
1) Squeaky Suspension:
My suspension squeaks much more than I would have expected or experienced on test drives. It appears to be happening on the front left and right suspension exclusively. I have heard that some other people had an issue where a nut or bolt was missing and identified/resolved after a visual inspection.
2) 'Drive mode changes not available due to fault, please service truck':
At pretty random intervals, my truck is unable to shift drive modes. I tend to get a temperature warning when this happens. The temperature warning doesn't make a ton of sense to me given that it's 57 in San Francisco and we had been driving for just ~25mi or so. This warning does appear to go away once the truck cools down.
3) 'Wait for vehicle to cool':
Related to the point above, but I also get these temperature warnings more often than I would have expected. I don't think it ALWAYS relates to the suspension issue, but here's a photo of the message another time I got the drive mode unavailable error as well:
4) 'Driver+ Features Unavailable':
This happens with regular frequency when I start up my truck, but tends to go away by the time I make it to the highway. Yesterday, it stayed on for a long while as I was receiving a temperature warning as well.
5) AC Sounds:
Randomly, the left side of my center AC unit will make... whirring thunking sounds? It sounds like the motor is struggling or confused. I can move the direction easily, but the sound continues. It stops completes when the AC fan is off and appears temperature agnostic, but I haven't had a reason to crank the heat yet. Link to video:
https://photos.app.goo.gl/gfhnsEQZ6pQWVs9x6
6) Wind noise on right triangle window:
Okay I wasn't previously having this issue, but I think I am now haha. It may be weather stripping which I noticed, but I also heard that people were having issues with the small triangular windows on the passenger and driver side doors. How was this resolved for y'all?
---
Okay! Phew! Grateful for whatever information you can provide so I can have a useful service center appointment. That appointment isn't available until 5/16 (which I scheduled
last week
and think is
way
too long). Thank you!