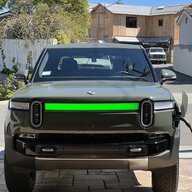 Joined

Aug 4, 2020
Messages
Reaction score

94
Location
Vehicles

LE R1T, GTI
I am going to rant a little here, sorry in advance if you are not a fan. This is not bashing Rivian I know they have their work cut out, more me seeking clarification in the process.
RANT: I have not been contacted by a guide, nor have many people, but I feel that my circumstance would lead me to have had a very early guide contact. I preordered my truck at the LA auto show in front of I believe Brian an engineer at Rivian. I am located in Southern California an hour away from the El Segundo service center and have launch green with mountain black and the A/T 20s configured. Furthermore, they have a huge presence here in my backyard. They are planning a service center in Costa Mesa, my neighboring city, and their office in Irvine is less than a 20 min drive with traffic. I feel like all the stars align except for the one star that pops up in my email when a VIP emails me
. If anyone has any insight or wants to tell me this is not a forum for ranting, it's all appreciated. We are going on three years and I am more than patient, I understand the truck may not get to me in September, October, or maybe even November, but a guide contact would certainly ease some of my anxiety. This comes from excitement, not disdain.
As all of us could probably agree on, we just want to experience it. To
@DuckTruck
- Bruce you are one lucky guy, to everyone at the event I really appreciate your feedback it has helped ease the nerves a bit but has made me even more excited. To the RivianStories guys, thanks for covering it all!
The Rivian team has certainly stepped it up in the past month or so as far as transparency and communication which is much appreciated, but I am ready for you guys to take my money
. I feel that with the more exposure the trucks are receiving the less concerned with guides we have been, forgetting I still need to meet them to experience the truck.
I continued ranting past my rant paragraph. I hope this makes sense or at least relates my current concern. Otherwise, I couldn't be more excited. Its starting to feel really real.