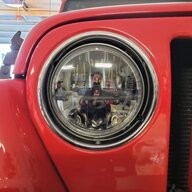 Well-Known Member
Site Sponsor
First Name

Rob
Joined

Nov 13, 2020
Threads
Messages
Reaction score

1,935
Location
Vehicles

Jeep & R1T
Hello again my dudes!
In early August the family and I took a road trip from Pittsburgh to the Outer Banks. This 500 mile trip was a pretty stark example of a few things that were missing from my R1T. The most glaring thing from the trip was the lack of cupholders. After working on them a few weeks, they were released both in STL printable format, and for purchase on RIVIPARTS. Both feedback and sales volume has been good, and I'm ready to move on to the next item that was on my list.
The next item that I've actively been working on is a tablet or phone holder that attaches to the rear of the front two seats.
Typically, these tablet holders are two parts. One part is a bar fits between the two pegs for the front seat headrest. This bit is typically held in place by pressure, pushing from between those two posts outward. It basically creates a mounting location. The second bit is the holder itself. These holders tend to utilize the standardized 17 mm ball mount in many cases.
Unfortunately, the seats installed in our Rivians don't have adjustable headrests. This means that the most common tablet mounts just simply won't work. As of today, you'll have to either strap the tablet around the front of the seat (which can chafe the top of the seating surface) or mutilate an off-the-shelf product and hope that it would work.
I wanted to find a better way. These were my requirements:
Simple installation - The mount should quickly hook or hang right on the back of the seat.
Elegant - It must retain access to both the USB-C charging point, and ideally the hook.
Flexible - It should support multiple different mounts.
Compact - When not installed, it must be easily storable.
Economical - Cheap to print or to purchase.
Durable - Kids will be using it and they will unintentionally try to break it.
This is what I've come up with:
It's a mount that installs over the hook on the back of the seat. It's purposefully designed to use multiple surfaces of the hook for stability. The result seems to be amount that is extremely secure for a 100% plastic implementation.
Under the hook is a slightly skewed app and more shallow 17 mm ball mount. This ball mound is as big as it can conceivably get for use in a variety of tablet holders. It's deliberately slightly oversized to give whatever mount is hanging off of it the maximum amount of clamping pressure. The ball is also as close as possible to the mounting plate in an attempt to keep tablets close and reduce torque from the sway that happens as the vehicles go over bumps.
This mount is just one part of the solution for mounting a tablet or phone on the back of the front seats. You would need a holder. I've been testing with this:
It's one of the best selling holders on Amazon, and the 8000+ reviews are spot on - it's excellent for $18. It even has Compass Yellow accents on it. In our application, the rear bit with the hooks can be discarded and the holder will mount directly to the Rivian specific part. A phone or tablet can be mounted by pulling the Compass Yellow ropes and clamping the phone in the holder - it's spring loaded.
So - where do we go from here?
I have more prototyping to do. I've completed 5 generations of it already and have a sixth on the printer now -- this one is the first one with the 17MM ball mount included. From there I have to dial it in a bit by tweaking tolerances to ensure the best possible fit. I will then have to revise it a bit to smooth out in a sharp edges, and perhaps adjust some things to ensure easy printing and manufacturing. Best case - this will take a few days.
From there, I think I would like to get a few of these out in the wild to gather feedback. If you are interested in one, please post in this thread. I thinking I may do a limited beta test with a handful of folks who really want to see something like this.
Assuming that all goes well, my intention is to both post the file, so you can print one yourself, and batch produce these for folks who do not have a 3d printer, like I've done in the past. If I hustle, and things go well, I'd really like to be able to ship them on Black Friday for use in traveling for Christmas or as a present. The thought of making the ride to Grammy's house on Christmas a bit nicer for kids makes me feel good.
Anyway, feedback is welcome. Please post your interest. Don't forget to watch this thread as I'll hopefully be posting installed pictures very, very soon.