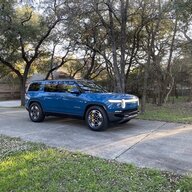 First Name

Alan
Joined

Apr 10, 2020
Messages
Reaction score

164
Location
First Name

Alan
Vehicles

Lexus LX470
Occupation

IT
Sorry guys - I've chosen our little Rivian group to vent a little.

My parents called me out of the blue yesterday because they were driving down to my side of town to look at a Ford Truck (they could never talk themselves into a Rivian even though I believe they could afford it. It was a major milestone to get them over 30k for a vehicle purchase.) Anyway.... I am a little leery of going to a dealership without first doing a lot of research so that I have an idea of what a car is worth but I wanted to go with them to make sure they didn't do anything silly. We met with a young salesman and described the truck my dad was looking for and they had 3 on the lot. He brought one up and we confirmed it had all the features my dad wanted although they all had a few that he didn't need..... While I never tend to concern myself with sticker price I did look at the sticker to get all the option codes so that I could build the truck online later. Sticker was in the $50 range... However, the salesman said all three dealer priced at 39,500 or 42,500 depending on the mood the salesman was in at the moment.

Seriously, I could not get him to give me a price. "Well the price depends on if you have a trade in... 39,500 with trade or 42,500 without trade...." - no actually it doesn't, We agree to a price for the truck, then we decide if we want to offer a trade and you offer what you're willing to give us for our trade, and then we decide if we want to accept your offer or not.... nothing to do with the price of the truck. Finally asked to speak to a manager and the manager said the salesman is wrong and the trucks price is $42,500 regardless of trade. We decided to leave. I get home and start researching only to find that on the dealers website they are offering that exact truck (I mean the exact stock number.. not similarly equipped.) for $37,600. Building it out on Edmunds gives me a fair market value of $36,600 (Not that I totally trust Edmunds anymore, I used to trust Edmunds especially back when it was a print book... a long time ago but I digress). That dealership lost a sure sale because they wanted to play a ridiculous game.

Found another truck at another dealership with the exact config my dad wants and have all the numbers I need... headed there when they open at 11 this morning to see if I can find a reasonable sales person..... I really hate dealerships.... but my parents are stuck in the age of seeing and touching the vehicle they intend to buy....