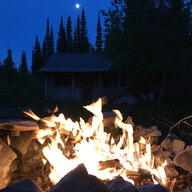 First Name

Greg
Joined

Sep 28, 2019
Messages
Reaction score

1,986
Location
First Name

Greg
Vehicles

2015 Tesla S 85D, 2019 4Runner TRD Offroad, R1T
Starting this thread for folks who plan to use their Rivian as a hunting rig. Once we actually get our trucks, we can post pics and stories of our successes. Until then, what plans do you have for hunting with your Rivian?
For me, I am mostly a western big game hunter. Elk, mule deer and antelope are my focus, but I will also get some predator tags (bear, wolf, coyote, mountain lion) if they are abundant in the areas I will be hunting. I hunt exclusively on public lands, mostly in UT, MT and WY. This coming season I have bull and cow elk tags in UT, cow elk and doe tags in MT and bull and cow elk, buck deer and buck antelope in WY. It's going to be a busy fall! I also occasionally do an upland bird hunt somewhere in the upper Midwest with a group of guys I know. My big game hunting is usually solo or with my son. I love the time outdoors all by myself.
Getting to the places I hunt is usually a combination of highway driving, maintained gravel roads, unmaintained forest service and fire roads and a lot of hiking. This is new territory for EV's. I feel confident in the Rivian's offroad capabilities, but charging is the part that concerns me. It'll be interesting to see the range impacts once the truck leaves the pavement. Feel free to leave your thoughts and experiences about that in this thread, or start another one for that topic since it will be applicable to more than just hunters.
I was hoping to get my truck (R1T LE 9/2019 preorder) during season this year, but that's now looking highly unlikely. So I will look forward to some great fun in it next season! Good luck and safe hunting to all the hunters out there this season!