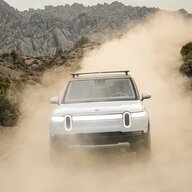 First Name

Mark
Joined

Feb 17, 2020
Messages
Reaction score

88
Location
First Name

Mark
Vehicles

1981 Volvo wagon; 2006 Tacoma SR5; 2009 Toyota Prius
GM introduced its new
Ultium batteries
when the pandemic was just getting going in March, so GM's new product announcement got lost in the noise. Now, GM is trying again. It's claiming it's close to milliion mile batteries, its new battery architecture reduces the use of cobalt by 70% at present, and future batteries will use even less cobalt, future batteries with the latest chemistries will be swappable into existing battery packs, so that new battery packs are compatible and interoperable with previous generation battery packs, that battery cells and modules can be managed one-by-one, and, not surprisingly, a BEV vehicle's battery management system (BMS) can be managed wirelessly.
GM's battery partner is LG Chem, a S. Korean firm also working with Tesla in China and one of two likely S. Korean battery partners with Rivian in Normal (the other being Samsung SDI).
Here's a YouTube video explaining GM's new battery initiative.
And here's GM's battery chief engineer saying pretty much the same things.
https://electrek.co/2020/05/19/gm-b...-capabilities-of-its-flexible-ev-pouch-cells/
Batteries are the guts of any BEV venture, and we're nearing a point where two interrelated issues of standardization and compatibility will have a huge industry impact. There are advantages and disadvantages to being a first mover as opposed to a fast follower when new technologies are developed. First movers at the leading edge are sometimes referred to as being at the "bleeding edge" because a lot of blood, sweat and tears await the first firms trying to commercialize new technologies. It's generally thought being a fast follower is preferred because they can capitalize on what first movers achieved without nearly as much blood, sweat and tears.
Batteries are a highly specialized product, and most auto companies don't try to make their own. Tesla and GM are exceptions though we don't know for sure how much of the battery chemistry, packs, architecture and BMS Tesla uses were developed in-house. It probably depends on which Tesla models, made where, and when because Tesla is willing to keep pushing ahead in its battery development program and to try out new battery chemistries and architectures.
The company or companies that can bring standardization and therefore economies of scale to BEVs will grab the brass ring. That's unlikely to be Rivian. It might be Tesla and, now, it could be GM or at least Tesla and GM appear to be front runners in the first mover contest. But note that neither Tesla nor GM are attempting to do batteries entirely on its own. Partnerships are key.
In Rivian's case, we hope it will partner with one of the front runners in the battery business. Rivian has enough resources not to put all of its eggs in one basket, however; that is, Rivian will hopefully follow a dual sourcing strategy of obtaining batteries from more than one supplier. This will minimize the threats of holdup, supply interruption and having chosen a supplier which isn't among the last men standing when the battery industry shakeout occurs. (This and other issues are discussed in other threads in this forum.)
For now, GM's announcements are good as long as GM can deliver what it's promising. BEVs will not become mainstream until their ownership costs equal or nearly equal ICE vehicle costs. And once BEV costs of ownership fall below those of ICEs, the auto industry will be reinvented as one powered by electricity.
Last edited: