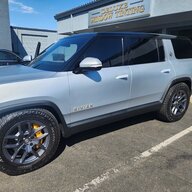 First Name

ray
Joined

Feb 4, 2022
Threads
Messages
Reaction score

142
Location
Vehicles

4Runner, Lexus NX Hybrid
I was inspired to do a write up by SacramentoElectric on a fridge slide install writeup for the R1T (
https://www.rivianforums.com/forum/...dge-slide-diy-installation-walkthrough.18923/
).
I have used a fridge slide in my 4Runner for years and it is very useful, especially as it is often difficult to load in the storage area. I also did a write up on wiring back the missing 12v in the frunk and using a Bodega 36L fridge in the frunk. that setup works, but it seems to tax the Bodega and would be fine for grocery runs, but probably not able to keep stuff cold on longer drives due to the heat in the frunk. that writeup is here: ()
Anyways, I installed two pieces of extrusion to make the back of the R1S level with the 3rd row seat step. Im fine losing an inch or two for a flat rear area. Bottom piece is 43", vertical piece is 40.5
Next, you can drill a small hole in the driver side 3rd row seat channel at the very end. bolting in a bolt hanger (link for amazon
https://www.amazon.com/dp/B0C16KTK9B?ref=ppx_yo2ov_dt_b_product_details&th=1
). results in an anchor point just below the crack between the two 3rd row seats to attach a strap.
this strap can be kept under the flap and in unnoticable if not in use. Using a bolt with an eyebolt on the passenger side u channel makes another anchor point on the passenger side.
The extrusion makes for an easy anchor point at the rear of the vehicle w/ channel bolts:
I'm using a Tortuga fridge slide (
https://www.tortugaoffroad.com/coll...m-overland-fridge-slide-from-tortuga-off-road
). it has a cutting board that slides out under the fridge slide that I suspect could be modified to fit an induction cooking top for people looking to do a R1S camp kitchen.
Straps hold down the back of the fridge and it works great. The platform on the back is added to have the RinseKit slide out. My dog loves to jump in any water or mud she can find, so it is great to hose her off.
I'm no engineer and know this is not very clean and can certainly be done better, but im posting this to give other's ideas on their own mods. Im open to suggestions to improve it. I only use it occasionally and is NOT a permenant install. I want it to be stock-ish looking when the fridge is not there. It is except for the extrusion at the end, but I dont mind that.
Hope this provides some people inspiration.
(ps. the missing trim on the roof is due to Rivain messing up a seal. they are coming next week to replace that part via mobile servce.)