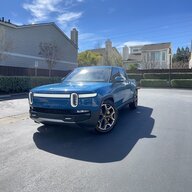 Joined

Oct 8, 2021
Messages
Reaction score

8
Location
Vehicles

Tesla Model 3
Yeah, with most other EVs on the market, the charge port is on the front of the car, driver's side. So to charge the R1T (or most others) at a Tesla charger, you have to effectively block two spaces. The exception would be if you can pull in next to the stall furthest to the right or partially into that space to use it, thus not blocking more than one charge spot. A few Tesla Supercharger locations have pull-through stalls for people with trailers. These will work great for the R1T or Lightning, but inconveniences someone else who might want it if pulling a trailer.

Since Tesla chargers will need a Tesla to CCS adapter, I think it would make sense for Tesla (or someone) to make an adapter that is also an extension, allowing most other vehicles to use the charger designated for the space they park in.
Adapter+extension cable is likely going to = significantly reduced charging speeds. We will have to wait and see but Tesla level 3 SC's have a liquid cooled cable to support +250 kw charging. Its likely that if an adapter and extension cable were even possible (likely to be very expensive), charging speeds would be significantly reduced to keep the adapter/extension from melting.