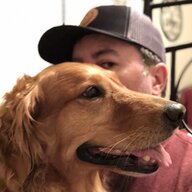 First Name

Steve
Joined

Jun 28, 2022
Threads
Messages
Reaction score

141
Location
First Name

Steve
Vehicles

Rivian R1T, Tesla S, LX470, R1200GSA, 500EXC-F
So some feedback and rough numbers on our first real towing experience.
TLDR: Tows amazingly well. Range limited for sure but not as much as we expected. 21s are pretty good on this truck.
Took my son up to the NoGA mountains yesterday for his first pavement motorcycle time. He has been riding dirtbikes since little and we have been prepping to do some real dualsporting together and maybe do some TAT. We trailered up to Two Wheels Only in Suches and did an easy 60-ish mile mixed/light dual sport route. Had a blast...despite/including the brief downpour and he did great.
Trailering specs:
R1T with 21's (road wheel/road tire)
7 x 12 single axle enclosed utility trailer (loaded with a couple dual sport bikes...500-EXC and WR250R) and some gear. Not heavily loaded by any stretch.
From our house to TWO is 56 miles on Google maps...couple quick side stops, call it 120 miles RT. I did not set an odometer unfortunately.
Route is mix of suburban roads, highway (GA400/16) and mountain windy (some very windy RT 60) and decent elevation changes
We left house full (300/150 Towing). Drove normally. Not flying not slow. Averaged 70 on the highway. Waved at another Rivian.)
~120 Towing Miles later backed into driveway with 55 miles remaining.
So for this trip call it 175 miles of range...though I know it's not that simple. But it's definitely more than 150...for this trip...with this trailer...on these wheels and tires.
Thoughts:
- WOW this thing trailers well. It is literally like nothing is back there. In fact you have to be careful not to forget and subject your cargo to forces you probably don't want to.
- That WOW includes not just acceleration but handling. GA RT60 has some switchbacks starting to rival Tail of the Dragon and if felt like we were driving a sportscar. I'd have been impressed with it even if we hadn't been towing a trailer.
- My thought is this is a more realistic example of what most people's towing will be. Boat to ramp, etc. Maybe farther if you're overnighting or staying longer. In that case grab an RV campsite or tesla destination charger and top off (or just fast charge if there is one on the way). It's enough for us.
With that said...I am curious as to how different our numbers would have been with 20 ATs. I have a set on order...who knows when I will see them. I do plan on keeping the 21s but don't want to have to swap them for a day/weekend trip like this. I didn't really love the 21s when I got the truck...it was one of the concessions I had to make to get the truck earlier. But now that I have been driving on them, I think functionally for most people's REAL uses (most people not all) it's probably the best combo. They do ride nice I know that. Powdercoat em if you don't like the 'flower' look. (Or get the the 20 or 22 that you love and just understand the range impact if it could be an issue for you.)
Similarly I got 19s and 21s on our model S. Ran the 21s for a long time. Definitely look cooler. In the end powercoated the 19s dark and put them back on. Better ride and better range.
But all in all continues to be a VERY VERY impressive vehicle. Knock wood. (Just give me CarPlay and fix the front axle cv/control-arm tock/tock/creak.)
Last edited: